Peter Granoff
Lesson learned: Customer service counts; so does the Internet. Growth is best when steady, slow, and self-funded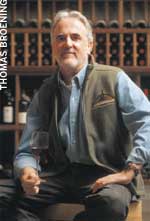 Age: 49
First try: Wine.com, an online retailer
New Venture: Ferry Plaza Wine Merchant & Wine Bar
Where: San Francisco
Employees: Five full-time, plus 12 part-time
San Francisco's newly revamped Ferry Building is a fitting place for Peter Granoff's latest venture, a wine store and tasting bar. The building, on a pier that once served as a transportation hub, now houses dozens of owner-operated retail shops and cafés, as well as a farmers' market. Much of the food on offer is organic or sustainably produced.
That scale and sensibility resonate with Granoff. His Ferry Plaza Wine Merchant & Wine Bar, he says, "is self-sustaining. We're growing out of cash flow." That's a far cry from Granoff's previous startup, e-tailer wine.com, which he co-founded with his brother-in-law in 1995. By 2001, it had $30 million in sales. But it also had raised more than $100 million from venture capitalists looking for a rich return. That paved the way for a disastrous merger with Wineshopper.com. In April, 2001, Granoff and his 300 employees were unceremoniously out on the street.
After taking a motorcycle trip across the West to blow off steam, Granoff busied himself consulting. Then, in the summer of 2002, Debbie Zachareas, a friend and restaurateur, approached him about opening a wine shop in the Ferry Building. He put together a business plan and, after months of negotiations, won a coveted spot. The 2,800-square-foot store hung out its shingle on July 15, 2003. Granoff, a master sommelier, and Zachareas started the shop with $750,000, much of it their own money. Nine months later, they are nearing profitability and have substantial cash reserves to fund growth.
Rather than relying on ratings by wine experts, Granoff and his staff carefully select the wines they sell. "It's the opposite of being a mass-market merchant," he says. And just as he did at wine.com -- with its tasting notes included with each order shipped -- Granoff is emphasizing service. Customers are encouraged to learn about wine by subscribing to the store's newsletter, attending its lectures, or sampling the changing roster at the 20-seat bar.
Granoff is once again eyeing e-commerce. This summer he plans to begin selling wine online. "If anything, [wine.com] proved that there's a place for online commerce as part of a business plan," he says, "but with reasonable expectations."
By Amy Cortese
Before it's here, it's on the Bloomberg Terminal.
LEARN MORE