Mating Calls
Land lines and cell phones can be linked simply and cheaply
By Larry Armstrong
Cell phones are indispensable when you're on the road. But back in the office, they mostly get in the way. They ring at odd times, and if you use a headset with your office phone, they're awkward to answer. They certainly do nothing to improve your efficiency. The best solution would be to make your cell phone and land line work together better instead of competing for your attention. I've been looking at three different types of gadgets that let you do just that. The caveat: You'll need particular phones or wireless providers to use them. But by dialing just one number -- your mobile -- callers have a good shot at getting you no matter where you choose to do business.
If you rely on a headset in the office, you should take a look at GN Netcom's GN 6110, about $200. It provides a way to link both a Bluetooth cell phone and a desk phone to the same wireless earpiece: You can make and receive calls on either phone without fumbling for a different headset. It connects to your desk phone via a base station inserted between the phone and its handset -- a clever design that allows it to work with any desk phone, even the multiple-line PBX and key systems that many small businesses use. The base station also recharges the earpiece.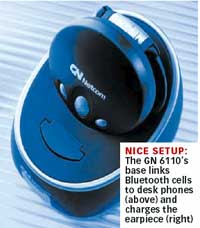 To answer either phone, simply touch a button on the earpiece; it knows which one is ringing. To make a call from your land line, press the button, lift the handset, and dial. If you dial a call on your cell phone, the earpiece cuts in on the call automatically. You can also use the voice-dialing feature of your cell phone, which is handy if you're using the earpiece in your car.
Another way to make sure that all of your cell calls find you is FastForward, a $40 cradle for Cingular Wireless customers. You set it up in your home or office and enter your land-line number in your mobile as a special call-forward number.
After that, whenever you dock your cell, your wireless calls ring on the land line. You can even set it up to forward calls to you when you're outside Cingular's wireless coverage area -- at a weekend place, for example. You'll pay $2.99 a month for the service but could still end up saving money: Incoming calls that are forwarded don't count against the minutes in your wireless plan.
Even more versatile are the $140 CellSocket from WHP Wireless and the $155 Dock-N-Talk from Phone Labs. Both are designed to let you completely replace a land line with cell service. Unplug any wired or cordless phone from its wall jack and plug it into either of these instead. Now your cell-phone calls will ring on that phone, and calls you dial from it will be placed over the cell network.
CellSocket only works with 16 cell-phone models; Dock-N-Talk, about 150. But you get savings both ways: If your staff has free mobile-to-mobile minutes, have them call the office on the cell line. And you can take advantage of free long-distance or weekend minutes on your outgoing calls.
It's clear to me where this is headed. Once you start giving out your cell number as your only phone number, you can ditch your land-line service entirely. Even if you're not that brave (I'm not), any or all of these gadgets can probably save you a little money and a lot of hassle.
Larry Armstrong writes about personal technology for BusinessWeek magazine.
Before it's here, it's on the Bloomberg Terminal.
LEARN MORE