Argentina: Investors Need A Little Reassuring
After three quarters of terrific growth, Argentina's economy is at a crossroads. The government must now spark more investment in order to keep the expansion going.
Fueled by a boom in exports, especially to China, and strong consumer spending, first-quarter real gross domestic product expanded by 11.2% from a year ago. However, growth is threatened by gas and electricity shortages, the result of scant investment during years of government-set price controls. A lack of energy is forcing work stoppages and rationing by industry. Meanwhile, rising wages are spurring inflation. In May prices rose 4.3% from a year ago.
Authorities so far have turned a blind eye to a potential slowdown, preferring instead to spend an expected $2.6 billion tax windfall from the recent recovery on social programs and public works such as new gas pipelines. But these moves are not helping to produce jobs or foster a favorable investment climate. In the first quarter, the jobless rate fell by only one-tenth of a percentage point, to 14.4%.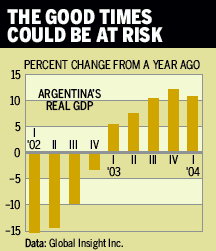 To generate real job growth, President Néstor Kirchner must convince investors that the economy's newfound competitiveness won't be stamped out by interventionist policies. Since Argentina ended the peso's peg to the U.S. dollar in early 2001, the currency has dropped 75%, making Argentina more attractive to outsiders. Foreigners, however, are slow to arrive. At home, banks are flush with cash and interest rates are at all-time lows. Yet, demand for loans is still far below what it was at the start of 2001 because local businesses are afraid to take risks.
One way to ease doubts about the economy's long-term health would be if Kirchner put an end to protracted haggling with foreign creditors over the restructuring of $100 billion in defaulted bonds. Although nobody expects a deal to be a cure-all, it would provide renewed access to capital markets for corporations. More important, it would help Kirchner dispel fears that he's backtracking on the previous decade's economic reforms or that he is isolating Argentina from the world.
By Joshua Goodman in Buenos Aires
Before it's here, it's on the Bloomberg Terminal.
LEARN MORE