ACAP: The Headaches Die Down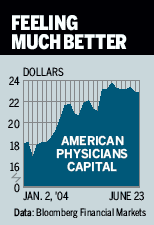 Medical malpractice suits are a pain -- except for lawyers and winning plaintiffs. Insurer American Physicians Capital (ACAP ), however, is coping nicely. Premium rates are up more than 20% for the third year. Now underwriting losses are falling -- fattening the bottom line. Richard Pzena, whose Pzena Investment Management owns 15% of the stock, says earnings will nearly double, to an annual $4 a share, by fourth quarter, 2005. ACAP earned 56 cents in the quarter ended Mar. 31. The surge should lift the stock from 23 to 40, even with no improvement in ACAP's p-e of 10, says Pzena. The premium hikes, allowed by state regulators, are sticking. The company is renewing about 85% of its policyholders. At the same time, claims and payouts for jury awards and settlements are falling. The average award is down from $82,200 six months ago to $55,200. ACAP is withdrawing from business in Florida and Nevada, where underwriting losses were swamping premium income. Michael Dion of Sandler O'Neill has a hold on the stock because of the chance that losses could turn up. Meanwhile, the company has conservatively raised reserves to $95,400 per claim.
Gene Marcial is away for several weeks.

Note: Unless otherwise noted, neither the sources cited in Inside Wall Street nor their firms hold positions in the stocks under discussion. Similarly, they have no investment banking or other financial relationships with them.
By David Henry
Before it's here, it's on the Bloomberg Terminal.
LEARN MORE