Oil's Rise Will Lift Suncor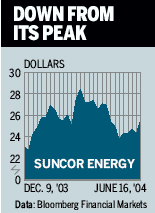 It's anybody's guess where oil prices will be in 12 months, but investment pro John Maloney is convinced they will stay above $30 a barrel. He is betting on Suncor Energy (SU ), which extracts crude from Canada's vast oil-sands deposits in Alberta. Many analysts, he notes, see oil falling from $37 now to $26. "But with economic recovery and limited capacity -- exacerbated by turmoil in oil-producing nations -- that's hard to imagine," says Maloney, who sees the stock, now at 25, hitting 35 to 40 within a year. He sees Suncor earning $4 a share in 2005 -- way above consensus estimates. In 2004, he expects profits of $1.96 a share.
Maloney calculates that every $1 rise in the price of oil adds 22 cents a share to Suncor's cash flow. Suncor's oil sands contain estimated reserves of 175 billion barrels -- second only to Saudi Arabia's. He says it costs Suncor $8 a barrel to extract oil from sands, vs. $10 or more for the majors. Suncor's output, now at 214,000 barrels a day, has grown at 10% a year over the past decade. Suncor sees it hitting 500,000 in seven years, Maloney notes. In the long run, Suncor is the oil stock to own, asserts oil maven Charles Maxwell of securities firm Weeden. In three years, he says, Suncor "will be No. 1 in production growth." Suncor was featured in this column on Nov. 18, 2002, when it was at 14.
Note: Unless otherwise noted, neither the sources cited in Inside Wall Street nor their firms hold positions in the stocks under discussion. Similarly, they have no investment banking or other financial relationships with them.
By Gene G. Marcial
Before it's here, it's on the Bloomberg Terminal.
LEARN MORE