The Bank of England continued its tightening of monetary policy on June 10. And with the British economy still expanding at a decent clip, more hikes are on the way.
As expected by most economists, the BOE raised its lending rate by a quarter-point, to 4.5%. It was the fourth bump up since November, 2003. In explaining the move, the BOE's statement pointed to above-trend output growth, strong household, business, and public spending, as well as a labor market that "has tightened further."
The BOE also noted that "cost pressures are rising." The bank has already raised its price forecast so that consumer inflation is expected to exceed the BOE's target of 2% within the next two years. In May, consumer prices rose 0.4% from April, or 1.5% from a year ago. Prices excluding mortgage interest were up at a 2.3% yearly pace. Producer prices at the factory gate are also rising.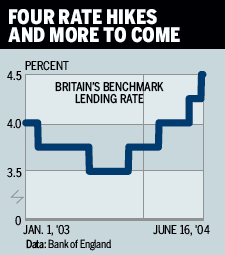 The BOE is the first of the world's major central banks to raise rates, but the moves have done little to curb borrowing, especially by consumers. Home buying remains robust. The government reported that home prices in April were up 10% from a year ago, although there are signs price gains will soon slow. And mortgage lending rose by nearly 10 billion pounds ($18 billion) in April. The easy access to credit and the strong labor markets are boosting consumer spending.
Consumer resilience is one reason why analysts expect the BOE to keep lifting rates this year. The bank has leeway to raise rates to slow demand because the production side of the British economy looks to be in good shape. Purchasing managers' indexes on construction and manufacturing have been rising in recent months. Factory output increased a surprisingly solid 0.9% in April over March. Plus, exports of capital goods are doing very well, although strong domestic demand has pushed up imports, causing the merchandise trade deficit to widen in 2004.
Bank-watchers expect the next quarter-point hike by the BOE to take place at its Aug. 4-5 meeting. However, if the data on consumer borrowing, economic growth, and inflation continue to run hot, the odds will rise for a hike at the July 7-8 meeting.
By James C. Cooper & Kathleen Madigan
Before it's here, it's on the Bloomberg Terminal.
LEARN MORE