U.S.: Profits Will Be Under Pressure, Not Under Water
Rising sales will help offset slower productivity gains and higher costs
Given the news of sizzling job growth for three straight months, the stock market welcomed the May employment report with open arms. But take another look. Wages and other costs are accelerating at a time when productivity is slowing down, and the Federal Reserve is ready to start tightening monetary policy. In the past, that combination has been a surefire recipe for a squeeze on profit margins and slower earnings growth. Should investors show more concern that future earnings will fall short of expectations?
Relax. Corporate America is in a solid position to generate profits in the coming year, although not at the same spectacular pace of recent quarters. Time and again, this recovery has proved itself to be far different from those in the past. And that will certainly be the case for earnings in coming quarters. True, many of the recent pluses for profits -- rising productivity, easy monetary policy, and falling labor costs -- are set to change direction. But none of the reversals will be so sharp as to trigger a collapse in profits.
FIRST, TAKE PRODUCTIVITY GROWTH. Output per hour worked is slowing, but it's coming down from a torrid 5.4% pace of the past year, which matches a 21-year high. The annual rate during the past two quarters has averaged 3.1%, and based on normal business-cycle patterns, a further slowdown is likely. However, productivity won't implode: Competition remains fierce in the new global economy, and businesses will be forced to maintain their past productivity gains.
The 1960s offer a key example, since that period of high productivity and low inflation is the most comparable to the current economic climate. During the first 10 quarters of the recovery from the 1960-61 recession, productivity grew at an annual rate of 4.9%, compared with 4.3% in the current recovery. By the third year of that upturn, unit labor costs were still under control, even while job growth was picking up strongly and wages were growing at a healthy clip.
A similar pattern will help to limit the cost squeeze on businesses in the coming year. Unit labor costs have already begun rising, as productivity has slowed and as workers' pay and benefits have increased at an annual rate of 4.4% during the past two quarters. However, even with unit costs rising at an annual rate of 1.2% over the same period, prices are growing at about the same pace, and that has allowed profit margins to remain about stable.
Moreover, the pickup in job growth doesn't mean companies have suddenly decided to sacrifice past efficiency gains. Instead, businesses are adding workers because they cannot satisfy booming demand with their existing workforces. That's suggested by the extremely lean level of inventories and the fact that delivery times are the slowest in decades.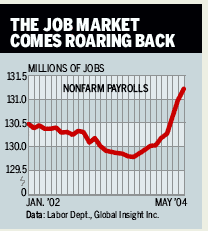 As a result, businesses added a hefty 248,000 jobs to their payrolls in May, bringing the total gains over the past three months to nearly 1 million (chart). Overall hiring was the broadest in six years, and the number of higher-paying jobs increased. Manufacturers alone added 84,000 slots over the past three months, the largest such rise since 1998.
The gain in higher-paying jobs means average wages are starting to pick up. So far this year, hourly earnings of production workers, about two-thirds of all payroll jobs, have grown at an annual rate of 3%, compared with the 1.8% pace for all of last year. That's comfortably faster than inflation, giving a boost to workers' buying power.
ONE REASON THE RISE IN PAY, along with the recent surge in hiring, will not crimp profits much is because employers are benefiting from the new flexibility of the U.S. labor markets. Businesses are increasingly adjusting their workforces to meet fluctuations in demand while maintaining past productivity gains.
For example, temporary workers, which are less than 2% of total employment, accounted for 20% of the layoffs posted during the recession. And since jobs turned up last autumn, additions of temps have accounted for 12% of the overall payroll gains. Labor's flexibility will allow businesses to keep their costs better aligned with their sales growth, and that's always a plus for profits.
Another new trend that is also favorable to the profits outlook is the return of better pricing power, thanks to the continued surge in demand. That was a point made by Fed Chairman Alan Greenspan in a speech on June 8. Greenspan noted that the sharp recovery in profits over the past couple of years reflected a swing from steep business discounting to "a significant degree of pricing power." He pointed out that in May consumer prices, excluding food and energy, were rising at a 1.4% yearly pace, up from a 0.8% rate in December.
More pricing power is on the way. A survey of chief executives done by TEC International Inc. found that 54% of companies expect to increase the prices of their products over the next 12 months. And the National Federation of Independent Business reports that among small-business owners, 25% noted higher selling prices in May, the highest reading since 1989 (chart). Plans to raise prices are double what they were a year ago.
BUT DESPITE SIGNS OF more pricing power, any rise in inflation will most likely be limited. Global competition, productivity gains, and continued slack in the labor markets will contain inflation at a low level. Moreover, Greenspan served notice in his June 8 speech that, if the policymakers' current sanguine view of inflation is wrong, then the Fed "is prepared to do what is required to fulfill our obligations to achieve the maintenance of price stability." That means the Fed is not locking itself into rate hikes in increments of only a quarter-point.
More than likely, though, dramatic Fed action won't be needed. Policymakers believe that pricing patterns are simply returning to normal cyclical trends after abnormally weak conditions in recent years. They also think the spring jumps in the price indexes were the temporary result of higher commodity prices, which have now turned down. If so, that will allow the Fed to keep its pledge to tighten policy at a "measured" pace, including a probable quarter-point hike at its June 29-30 meeting.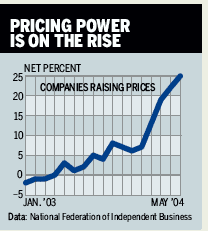 A gradual pace of tightening means that demand will not be hobbled by sharply rising interest rates. That offers a final plus for the profit outlook. Corporate revenues will remain sturdy. Rising sales will help to offset the squeeze on profit margins as productivity slows and costs pick up. But even if margins have topped out after rising for more than two years, they will remain at a high level. As a result, a sizable chunk of those revenues will fall to the bottom line.
The positive trends for profits are coming at the same time that the renewed vigor in the job markets means faster income growth for consumers. That's because economic growth is now better balanced between productivity and labor. And for the next few quarters, at least, investors, businesses, and consumers all will be reaping the financial benefits of a strong recovery.
By James C. Cooper & Kathleen Madigan
Before it's here, it's on the Bloomberg Terminal.
LEARN MORE