No Need To Swipe These Smart Cards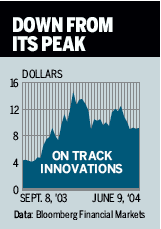 Contactless Smart Cards are coming -- from Israel's On Track Innovations (OTIV ). Its new technology lets a microprocessor read cards without users having to swipe them through a groove. BP (BP ) customers in South Africa simply flash the cards to reading devices to buy fuel. Palestinians who work in Israel use OTI's cards for identification to cross borders. MasterCard will roll out contactless cards in the U.S. in late 2004, says Paul Sethi of Vertical Ventures, which owns shares. OTI provides the chips in the cards as well as the devices that read the cards and expects to sell 2,000 to 5,000 of them in 2004. OTI America President Ohad Bashan says the technology has been tested and in use since April, 2003, at fast-food chains such as McDonald's (MCD ) and gasoline stations. J.P. Morgan Chase (JPM ), Citibank (C ), and MBNA have tested the cards, too.
OTI has yet to make money, but Bashan sees it breaking even in 2004 on estimated sales of $24 million. In 2005, he expects a profit. The stock, which hit 15.66 on Jan. 6, has slid to 9, partly due to a $15 million equity offering. Rick Meckler of Liberty View Capital Management, which owns shares, says the technology may be a big player in Homeland Security. Leo Bregman of LB Capital Investments, which owns shares, says OTI's technology is used in Israel to keep track of meter-less public parking.
Note: Unless otherwise noted, neither the sources cited in Inside Wall Street nor their firms hold positions in the stocks under discussion. Similarly, they have no investment banking or other financial relationships with them.
By Gene G. Marcial
Before it's here, it's on the Bloomberg Terminal.
LEARN MORE