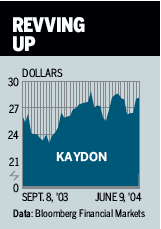 As manufacturing heats up, stodgy Kaydon (KDN ) is attracting investors' attention. "It's a pure industrial play," says Stuart Shikiar of Shikiar Asset Management, which owns shares. Kaydon's bearings, hydraulic gear, and industrial filters are vital in aerospace, electronics, and heavy construction. The stock has risen 27%, to 28 since Oct. 23. Shikiar sees it at 35 to 40 in a year.
CEO Brian Campbell, who has a record of bulking up companies, is in talks to acquire two outfits, says Shikiar, that he thinks will boost Kaydon's sales and earnings by 30% to 40%. He sees Kaydon, with a cash hoard of $260 million, or $8 a share, earning $1.40 a share in 2004 and $1.75 in 2005 (sans acquisitions). He notes that Campbell was formerly CEO of TriMas, whose stock soared in six years from 2 to 20 -- until MascoTech (MAS ) acquired it in January, 1998. Jeff Hershey of Awad Asset Management says Awad has upped its stake to about 4% because of Kaydon's "tremendous operating leverage" in this recovery. The uptick in business spending, he adds, assures a pickup in demand for Kaydon's high-margin, sophisticated industrial components. Kaydon didn't return calls for comment.
Note: Unless otherwise noted, neither the sources cited in Inside Wall Street nor their firms hold positions in the stocks under discussion. Similarly, they have no investment banking or other financial relationships with them.
By Gene G. Marcial
Before it's here, it's on the Bloomberg Terminal.
LEARN MORE