Delta Is Ready When The Pilots Sign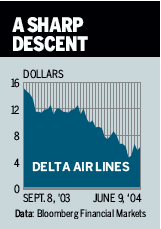 Delta Air Lines (DAL ), the third-largest U.S. carrier in terms of operating revenues and passenger miles, is way down on the Street's favored list. Delta faces a risk of bankruptcy, analysts say. Huge debt and soaring costs for fuel and labor -- especially the high salaries of its pilots -- have put Delta in a bind.
Nonetheless, some savvy investors have been buying shares, which have dived from 15 on Sept. 8 to 6 on June 9. Among them is Vince Carrino, president of Brookhaven Capital Management. He thinks Delta is "very close to a deal, with the pilots agreeing to a 30% pay cut in exchange for owning a 30% equity stake in the airline." The pilots have no choice, with bankruptcy as the only other option, he adds. People close to the situation, says Carrino, expect Delta will ink a pact with the pilots by the end of July. The pay cut could amount to savings of about $1 billion a year, says Carrino. Delta, he adds, aims to save an additional $500 million from debt restructuring and cost-cutting elsewhere. That, he says, plus a drop in oil prices should reenergize the stock, which Carrino figures will double in a year. Gary Chase of Lehman Brothers (LEH ), who recently upgraded the stock from "equal weight" to "overweight," says Delta could be in bankruptcy court if it fails to win the pilots. A deal would open capital markets to Delta again.
Note: Unless otherwise noted, neither the sources cited in Inside Wall Street nor their firms hold positions in the stocks under discussion. Similarly, they have no investment banking or other financial relationships with them.
By Gene G. Marcial
Before it's here, it's on the Bloomberg Terminal.
LEARN MORE