U.S.: Finally For Workers, A Bigger Piece Of The Pie
Strong demand is allowing businesses to bolster payrolls -- and wages
One of the striking features of the U.S. economy since the recovery began at the end of 2001 has been its ability to generate income. Indeed, overall national income flowing to households and businesses has grown nearly 8% from a year ago, the fastest pace in 15 years. So far, the business sector has enjoyed the lion's share of the increase. But from all recent signs, workers are now set to share in the bounty. And that new trend is what will give the recovery its staying power.
Up to now, profits going to big corporations along with earnings for smaller proprietorships and rents to landowners, all of which represent less than one-fourth of national income, have accounted for 46% of the increase since the recovery began. Pay and benefits to workers, about two-thirds of the total, have contributed a less-than-proportional 44% of the increase. By the end of 2003, the share of national income going to workers had slipped to the lowest level in nearly four decades.
Now the pattern is finally looking more favorable for workers. With demand booming, businesses are using their abundant cash flow to buy equipment, lay in more inventories -- and, most important, beef up payrolls. Even the long-beleaguered manufacturing sector is springing back to life. In fact, upward revisions to personal income made by the Commerce Dept. suggest job growth at yearend and prior to March was greater than what's being shown by the employment data. More jobs mean that wages and salaries have accelerated to their fastest yearly clip in more than four years.
To be sure, businesses continue to rake in the money. As part of its revised data for real gross domestic product, which lifted first-quarter economic growth to 4.4% from the 4.2% pace originally reported, the Commerce Dept. also included its economywide accounting of first-quarter corporate profits. Recall that in the last three quarters of 2003, corporate earnings had posted quarter-to-quarter gains averaging an annual rate of 42%. In the first quarter, Commerce said, operating profits rose an additional 4.9% from the fourth quarter. Compared with the previous year, profits were up a very healthy 31.6%.
BUT RISING LABOR COSTS are starting to nibble at profit margins. Measured as profits per unit of output for all nonfinancial corporations, they were unchanged last quarter after a sharp uptrend. Commerce said that although corporations enjoyed more pricing power, that gain was offset by increases in both unit labor and nonlabor costs. Indeed, the Labor Dept. reported earlier that unit labor costs rose in the first quarter for the first time in a year.
Even that data may understate the pressure on profit margins. In its GDP report, Commerce included a sizable upward revision to wages and salaries since last September. So unit labor costs might be rising faster than what current data now show -- perhaps even faster than prices, suggesting some squeeze on margins.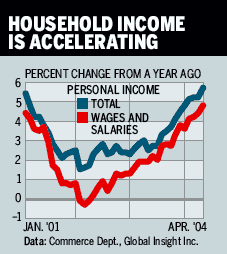 To be sure, margins remain high, and strong revenue growth will buoy profits. The second-quarter survey of chief executives taken by the Business Roundtable shows that 88% expect sales to increase in the next six months.
Nevertheless, the dominance of profits in the income picture may be slipping. Bear in mind that in the past, when margins began to peak, so did the share of profits in national income. After that, the share going to labor began to rise.
FOR WORKERS, that shift is an obvious plus. But the consumer sector overall has already been enjoying more of the gains of the stronger economy, even if the benefits have not been equally disbursed. Since last September, personal income increased at a hefty annual rate of 6.1%. In April alone, it rose 0.6%. After inflation, real aftertax income was up a solid 0.4% for the month.
The big winners have been small-business owners and investors. Proprietors' incomes, which are counted as personal income, shot up at an 11% annual rate from September to April. Just as big corporations have used productivity to boost their profits, small-business owners also seem to have become more efficient, helping their bottom lines. This category accounted for 15% of the gain in personal income since September, although it is less than 9% of the total. Income from dividends and interest contributed another 10%.
Workers, meanwhile, collected about 45% of the personal income gain. But their wages and salaries account for just over half of all personal income, meaning workers have not fully benefited from the recovery. It wasn't until March of this year that businesses started hiring at a strong pace, and the slack in the job market has allowed pay raises to decline sharply.
The sector split in personal income gains should narrow in coming months. First, healthier job growth will lift wages and salaries. Second, productivity growth will slow, pushing unit labor costs up gradually and cutting into proprietors' income. But the split notwithstanding, any acceleration in household incomes argues that spending will heat up again this summer.
A CHIEF BENEFICIARY of surging household and business income is the factory sector, which continues to show new life, not just from rising current demand but also from a sharp turnaround in inventory accumulation. Commerce revised up the first-quarter pace of inventory growth, from $15.3 billion to $28.2 billion, which is a steep acceleration from the growth in previous quarters.
The factory revival was also evident in the latest news from the Institute for Supply Management. The ISM's index of industrial activity rose to 62.8% in May, from 62.4% in April. The May index -- comprising new orders, production, employment, inventories, and delivery times -- remains at an unusually high level, down only slightly from the January peak of 63.6%, the highest level in 20 years. Based on the historical relationship between the ISM index and the economy, the year-to-date average of the index, if it were to continue for the entire year, would correspond to a 7.2% growth rate in real GDP.
The ISM also reported that, despite the bump up in first-quarter inventories, businesses still need to stock more merchandise. The ISM said 32% of its members felt their customers' inventories were "too low" in May, the highest reading since records began in 1996 (chart).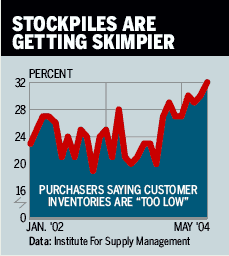 As a result, businesses can't quickly meet any increases in orders. The ISM's index of delivery times showed that 69.4% of companies reported slower deliveries, the highest reading since 1979. Several items are in short supply, including aluminum, steel, and electronic components. As businesses seek to restock inventory as well as meet new demand, factory production will speed up, creating new jobs, more profits, and bigger wage and salary increases.
That's an important trend for the outlook, because in the end all income generated in an economy eventually winds up in people's pockets. Even corporate profits ultimately get recycled into dividends, interest payments, capital spending, and more employment. Income always drives demand, and that's why this recovery has a bright future.
By James C. Cooper & Kathleen Madigan
Before it's here, it's on the Bloomberg Terminal.
LEARN MORE