From Pain Therapeutics: A Better Pain Killer
By Gene G. Marcial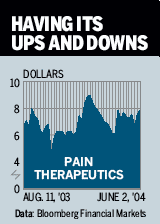 The best pain killers -- opioids, made from morphine -- are often abused and have nasty side effects. Enter Pain Therapeutics (PTIE ), which has a reformulated opioid. Called Remoxy and now in proof-of-concept trials, the drug is encased in tiny, slow-dissolving, hard capsules, so users can't get a sudden rush from it. The most popular opioid is sustained-release OxyContin, from Purdue Pharma, which rang up sales of $1.9 billion in 2003. But as abuse rises, doctors hesitate to prescribe it. With Remoxy, if the outer shell is broken, the drug is still protected.
Remoxy could become the "replacement for OxyContin -- with a potential $1 billion market," says Elemer Piros of Rodman & Renshaw. Piros notes that Purdue is working on its own tamper-resistant OxyContin, but his money is on Remoxy. PTIE will soon post data on Remoxy's effectiveness -- and on whether it really resists tampering. If results are good, PTIE, which has yet to earn revenues, will file with the Food & Drug Administration by yearend -- unless further study is needed. Piros figures the stock, now at 7.96, could hit 16 in a year. Matt Geller of CIBC World Markets says Pain is way undervalued.
Note: Unless otherwise noted, neither the sources cited in Inside Wall Street nor their firms hold positions in the stocks under discussion. Similarly, they have no investment banking or other financial relationships with them.
Corrections and Clarifications "From Pain Therapeutics, a better painkiller?" (Inside Wall Street, June 14) should have said it expects to begin Phase III clinical trials by yearend (not file with the Food & Drug Administration for approval).
See Gene on Fridays at 1:20 p.m. EST on CNNfn's The Money Gang.
Before it's here, it's on the Bloomberg Terminal.
LEARN MORE