By Gene G. Marcial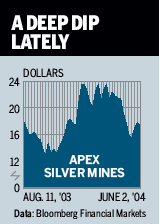 Would you invest in Apex Silver Mines (SIL ), whose main property -- as yet undeveloped -- is in far-off Bolivia? Some high-stakes players have taken big chunks: George Soros, his brother Paul, and their various funds own 14%; Fidelity Investments more than 14%; Moore Macro Fund 12%; Wellington Management 11%; and Morgan Stanley (MWD ) and Citigroup (C ) each under 2%. "Apex is one of the best bets in metals -- whose prices are on the rise," says Stephen Leeb of Leeb Capital Management, which owns shares.
With $400 million from stock-debt offerings and credit lines from Barclays (BCS ) and BNP Paribas, Apex is set to build at San Cristóbal, Bolivia -- and "become one of the largest and lowest-cost producers of silver and zinc," says Leeb. The stock is at 17.65, down from 24 in March. With output expected in two to three years, he sees Apex doubling in a year. San Cristóbal has proved reserves of 400 million oz. of silver and 7 billion lb. of zinc, he notes. Apex says it expects to produce 27 million oz. of silver and 570 million lb. of zinc a year for the first five years. At silver's current price of $6 an ounce, Apex could earn $2 to $3 a share, he figures. If silver runs up to $10, earnings could hit $6, he says. Adam Graf of Bear Stearns (BSC ), which has done banking for Apex, rates it "peer perform" but says it could "be attractive" in times of rising silver and zinc prices. Apex has rights in some 100 mineral-exploration holdings at 34 properties in countries such as Bolivia, El Salvador, Mexico, and Peru.
Note: Unless otherwise noted, neither the sources cited in Inside Wall Street nor their firms hold positions in the stocks under discussion. Similarly, they have no investment banking or other financial relationships with them.
See Gene on Fridays at 1:20 p.m. EST on CNNfn's The Money Gang.
Before it's here, it's on the Bloomberg Terminal.
LEARN MORE