U.S.: War Jitters Won't Wipe Out This Recovery
Strong demand should overcome Iraq worries and higher gas prices
It has always been said that war is good for the economy, and in terms of dollars and cents that is usually the case. But much of the new uncertainty in the outlook stems from the situation in Iraq. The risks still evident there are one of the factors pushing up oil and gasoline prices. Iraq is also depressing consumer confidence despite improving economic fundamentals, and it is weighing heavily on the stock market, even though earnings are performing better than expected. Iraq has even thrown the Presidential election and future economic policy up in the air, another reason the stock market is unsettled.
Does all this uncertainty dim what promised to be a bright second half? Maybe, but not much. Each sustained $10-per-barrel rise in oil prices cuts a half percentage point from economic growth. Oil, at $41 per barrel, will nip at corporate profits. It will also nibble at consumer spending and lift overall inflation more than expected. But U.S. consumers have dealt with worse.
This time is different. Higher prices for oil and gas mainly reflect a strengthening U.S. and global economy, not a disruptive supply shock. Plus, factors beyond supply and demand are at work, such as risk premiums associated with market speculation that may prove temporary. Most important, coping with today's prices is a lot easier in a strong economy than in a weak one.
In fact, this is the point in every recovery -- in this case, the long-awaited point -- when classic business cycle forces come together to propel growth forward. That's a process that's difficult to stop, especially with job growth accelerating, capital spending surging ahead, exports responding to faster global growth, and an increasing need for businesses to boost their current inadequate inventory levels. Taken together, these power sources should overcome the drags exerted by the new war jitters.
THE IMPACT OF ANY IRAQ EFFECT will fall ultimately on consumers, whose spending will determine whether the U.S. economy roars ahead in the second half or merely glides forward. Households will confront both pluses and minuses in coming months, but in the end, consumers should have the financial momentum to keep spending at a healthy pace through the year.
The biggest negative, of course, is the squeeze coming at the gas pump. The Energy Dept. reports that the average price of gasoline hit a record $2.06 per gallon in late May. Not surprisingly, the sticker shock at the pump has dimmed consumers' view of the economy. The Conference Board cited rising gas prices as one reason consumer confidence in May did not increase much despite the recent good news on the job front. The confidence index edged up to just 93.2 from April's 93.
An Iraq effect was also noted in the report. The Board said "escalating tensions overseas" offset some of the job market optimism. In fact, worries about Iraq have softened confidence for a while, and war jitters may have cut consumer spending by $40 billion over the past two years.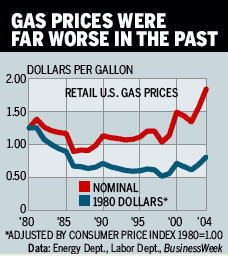 True, today's griping about gas prices echoes the complaints heard when oil prices spiked in the 1970s and early 1980s. But this is no 1980 rerun. Prices for other goods and services have risen by a wider margin than gas has. When adjusted by the consumer price index, gas costs 36% less than it did in 1980. Looked at another way, gas would have to cost $3.50 a gallon to take as much out of your wallet as it did in 1980.
Plus, despite the popularity of minivans and SUVs, households spent about 2.5% of their aftertax income on gas now, vs. more than 4% in the early 1980s. That may be why driving habits have not yet changed in response to higher prices. A survey by Paymentech LP found the same percentage of households plan to travel over the Memorial Day weekend as did in 2003, and the trip will be as long as or longer than last year's.
LOWER DOWN THE LIST of minuses for consumers is the loss of two sources of cash: refi money and tax cuts. Already, applications to refinance a mortgage have fallen by two-thirds from mid-March to mid-May as mortgage rates rose by more than a percentage point. Consumers had been using money cashed out of refis to pay for big-ticket items such as home remodeling, vacations, and cars. Losing that extra money will crimp some purchases.
The 2004 fiscal stimulus from the Bush 2003 tax cuts, however, has proved to be much less than expected. According to data through mid-May from the Internal Revenue Service, the average refund is up only 4.8% from the year before. The total amount of refunds mailed this year is only $13 billion more than the checks sent out in 2003. That falls short of the $40 billion to $50 billion economists estimated would flow into taxpayers' pockets in this first half. But it also means households won't feel much of a pinch after the economy has absorbed all of the stimulus from last year's tax plan.
With all these negatives weighing on consumers, the main saving grace for the second-half outlook is faster job growth and the income it will generate. The continued downtrend in new unemployment claims along with the small gain in help-wanted ads suggest job growth should settle into a range of about 200,000 a month in the second half. That's strong enough to keep real aftertax income growing at the 4% yearly clip recorded in the first quarter. Even allowing for a pickup in inflation because of higher energy costs, the gains in income will help consumers keep the economy going in the second half.
THE BUSINESS SECTOR seems on solid ground as well. Already, outlays for new equipment and software have contributed about one-fourth of overall economic growth in each of the past two quarters. And from all signs, they will continue to supply a big thrust to growth in the second half. Order books are filling up rapidly as businesses strive to meet accelerating demand and replenish their depleted inventories.
Even though new orders coming into manufacturers of durable goods, which can be very volatile from month to month, dipped 2.9% in April, the three-month average still shows a strong upward trend. Orders began the second quarter well above their first-quarter average, and they are up 13.9% from a year ago. Most important, the same pattern is true for capital goods bookings. Capital-goods orders are a key indicator of business confidence, since they represent big bets on the direction of demand. And through April companies still appear upbeat.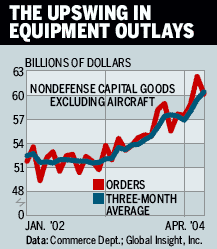 Factory orders are coming from both domestic and foreign sources. In February and March, exports of goods, adjusted for inflation, posted the largest two-month gain in seven years. And in March and April, the Institute for Supply Management's index of export orders was the highest in 16 years.
For Corporate America, any new uncertainty could trigger slower growth later on. After all, business-sector jitters were a big factor that kept this recovery in low gear for so long. But companies haven't experienced the current broad strength in demand since the late-1990s boom, and it will take a lot more than the bad vibes coming out of Iraq to alter that trend.
By James C. Cooper & Kathleen Madigan
Before it's here, it's on the Bloomberg Terminal.
LEARN MORE