South Korea: An Economy That's Out Of Kilter
The economy of South Korea is facing a double whammy: higher oil prices and the anticipated Chinese slowdown. As a result, the recovery expected for this year may be slower than projected.
The first-quarter data were certainly disappointing. Real gross domestic product grew by only 0.8% from the fourth quarter, or 5.3% from the year before. More vexing was the mix of sectors that slowed. Private consumption fell 1.4%, while growth in capital formation and construction slowed.
Goods exports, however, surged, rising by 29% with gains in vehicles, semiconductors, and steel. For the second quarter in a row, exports accounted for all of the growth in overall demand.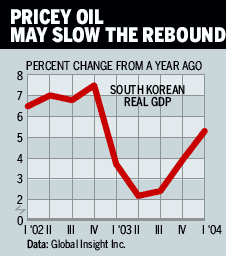 Domestic spending has been hampered by the shakeout following a borrowing spree that strained the finances of many households. Now, consumer spending will be slowed further by the hike in oil prices. Inflation at the producer level is already reacting to pricier fuel, and these higher costs could boost inflation for consumers. In April, Korea's producer price index recorded its biggest jump in five years.
Korea came out of recession in mid-2003 and managed to grow by 3.1% for the year. Seoul is forecasting real GDP will grow by 6% for 2004, but private economists are scaling back their forecasts in light of the Chinese slowdown and oil costs.
For long-term prosperity, the government must find a way to shift GDP growth from exports to domestic demand. Already, the government has cut sales taxes on certain consumer and luxury goods, and it may bolster public spending. The central bank has promised to keep interest rates low even if high fuel costs boost inflation.
In a way, a Chinese slowdown may be one of the best developments for the Korean outlook, since it could lessen Korea's dependence on foreign economies to support its industrial sector. If China's expansion slows to 7% or 8%, instead of 9%, growth of Korean shipments to China should decelerate into the 30% range, instead of the current 40%. But domestic demand will have to pick up for Korea to achieve a better-balanced economy.
By James C. Cooper & Kathleen MadiganWith Moon Ihlwan in Seoul
Before it's here, it's on the Bloomberg Terminal.
LEARN MORE