Chet Carlson: A Dogged Image Maker
The unconventional inventor spent 21 years turning photocopying into reality
As part of its anniversary celebration, BusinessWeek is presenting a series of weekly profiles of the greatest innovators of the past 75 years. Some made their mark in science or technology; others in management, finance, marketing, or government. In late September, 2004, BusinessWeek will publish a special commemorative issue on Innovation.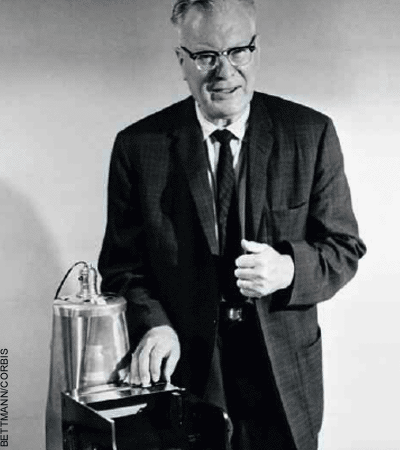 As a child, Chester Carlson had few things in his favor. His father was crippled with arthritis, and his mother worked as a housekeeper to support the family until dying of tuberculosis when he was 17. To offset the family's constant moving around, Ellen Carlson believed in making every day an adventure for her son. So Chet would walk around with notebook in hand, jotting down ideas for changing the world. When he was 12, Carlson told his cousin Roy: "Someday I'm going to make a great invention."
That day came on an October afternoon in 1938, and it would spark a revolution rivaling the invention of the printed word. Carlson, frustrated at having to make endless hand copies of the patents passing through a law firm where he worked, became convinced that there was a better alternative than messy carbon paper or ink mimeographs. It would take 21 years for his rudimentary design to become a usable paper copying machine. However, the photocopier would eventually change the world, unleashing a wave of office productivity, empowering truth seekers to disseminate the Pentagon Papers in Washington and protest pamphlets in Moscow, and introducing a generation to the concept of a "paper jam."
Few saw the potential at first. But Carlson was nothing if not determined. Urged to stay in school by a school-principal uncle, he attended junior college and graduated in physics from California Institute of Technology. It was the midst of the Depression: Carlson sent out 82 applications before landing a job at Bell Laboratories (LU ). He was laid off within a year -- and was working as a patent attorney when inspiration struck. Carlson's "Eureka! moment" came when he realized that photo-sensitive materials could be used to put an image on paper. In his Astoria (N.Y.) lab on Oct. 22, 1938, he took a photoconductive zinc plate and rubbed it with a handkerchief to produce a positive charge. He laid a glass microscope slide printed with "10-22-38 Astoria" in India ink on top and exposed the plate to a light bulb. The part shielded by ink kept its charge and attracted negatively charged powder he sprinkled on top.
Early demonstrations, performed with the materials he toted around in a cigar box, evoked little enthusiasm. More than 20 companies turned him down. Says Horace Becker, 81, the retired chief engineer of what later became the first Xerox copier: "For people to look at that and see the vision of a machine, you had to be desperate." Joseph C. Wilson was such a man. The CEO of Haloid Co., the predecessor to Xerox Corp. (XRX ), Wilson was struggling to compete against the mammoth Eastman Kodak Co. (EK ). He took a flier in 1947 on developing a copy machine using Carlson's patents. It took a further 13 years -- and breakthroughs on toner, lenses, and other components -- before Haloid introduced a 2,000-pound machine, the 914, in March, 1960. So elegant was Carlson's design that no real rivals existed until the late 1970s when Xerox, facing possible antitrust charges, helped create them by ignoring infringements on its patents.
Carlson, paid in Haloid stock, became a millionaire. But he remained unconventional up to his death in 1968. He tried to give his wealth away by funding peace and civil rights movements. One afternoon in New York, Carlson, by then badly crippled with arthritis, saw a man selling balloons. He bought them all, walked into a park, and let them go. "He marched to a different drummer," says his colleague Becker.
By Nanette Byrnes
Before it's here, it's on the Bloomberg Terminal.
LEARN MORE