By Gene G. Marcial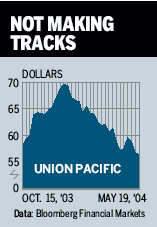 Union Pacific (UNP ), the largest U.S. railroad, isn't making tracks on the Street. Most analysts are down on the stock, which has nosedived from nearly 70 in January to 56 now. Even with freight demand up and train capacity scarce -- partly due to the economic rebound -- analysts see no early end to Union Pacific's earnings and stock price woes. The 2004 earnings consensus is $4.06 a share, a penny less than 2003 and 24 cents below 2002 earnings. But Scott Kuensell of Brandywine Asset Management, which owns shares, figures Union, trading at 1.5 times book value, is at its historical bottom. The last time it traded that low was in early 2002. During the following year, the stock leaped 70%, vs. the market's 10% fall, notes Kuensell, who thinks the stock will snap back to 70 in a year. He notes that Union is now fixing its problems, part of which was the loss of some 30% of its crew from early retirement -- at the time when traffic was starting to rise. So he thinks Union will earn $4.20 a share in 2004, $5 in 2005, and $6 in 2006. Rick Paterson of UBS says Union is a "classic value play" and that its current problems "provide a nice entry point."
Note: Unless otherwise noted, neither the sources cited in Inside Wall Street nor their firms hold positions in the stocks under discussion. Similarly, they have no investment banking or other financial relationships with them.
See Gene on Fridays at 1:20 p.m. EST on CNNfn's The Money Gang.
Before it's here, it's on the Bloomberg Terminal.
LEARN MORE