U.S.: Yes, Prices Are Rising, But Not To Worry
With labor costs still low, inflation can't build up much steam
In this time of jitters over inflation and the course of monetary policy, it's important to remember that not all price hikes are created equal. Some investors are reading the recent larger-than-expected gains in the producer and consumer price indexes as the start of a new cycle of ever-faster inflation in the U.S. Instead, the sharp run-up in prices is more likely a short-lived result of the economy's growth surge, greater global demand for commodities and energy, and a firming in import prices as the dollar declined.
These forces surely boost prices, but they're not the stuff of a sustained round of inflation that sets off alarm bells at the Federal Reserve. Many of today's product shortages and cost pressures should be history by autumn, after companies ramp up output, tap underutilized labor and production capacity, and increase inventories to meet demand.
In fact, policymakers undoubtedly welcome some pricing power in the corporate sector, coming as it does after an extended decline in prices for consumer goods other than energy and food. While overall inflation never did drop below zero, held up by rising service prices, the consumer-goods sector did experience outright deflation during all of 2002 and 2003 (chart).
The economy is far from the point where inflation could turn ugly. That only becomes a worry when labor markets become extremely tight and industrial companies run out of spare production capacity. The resulting mix of hot demand and rising costs pushes up prices and wages. Then expectations of ever-higher prices trigger a vicious spiral that is difficult to stop.
But consider that in the late 1990s the economy didn't generate a significant inflation threat even with a jobless rate of 3.8% and with industry utilizing 83% of its production capacity. With the unemployment rate now at 5.6% and the industry operating rate at 77%, the dangers of inflation are remote.
TO BE SURE, THE ECONOMY'S SLACK capacity will be used up over the coming year. But by then, the Fed will be well on its way to moving monetary policy into a more neutral stance. As the Fed takes rates back up to levels more consistent with maintaining solid growth and price stability, a new set of tighter financial conditions will be in place to moderate today's rapid pace of demand.
That's not to say inflation won't move higher in coming months. It most likely will -- and for reasons other than $41-per-barrel oil and soaring gasoline prices. The core CPI, which excludes the volatile food and energy sectors, probably hit its low for this business cycle in December, slowing to a yearly rate of 1.1%. By April, core prices were rising at a 1.8% rate, contributing to the fear that the inflation genie was out of the bottle. The trend is similar at the producer level. The core PPI for finished goods was up 1.4% in the year ended in April. In late December, 2002, those prices were declining by 0.5%.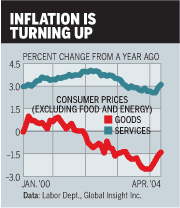 That acceleration reflects some pass-through of surging commodity prices. One step back in the production process, yearly inflation for core intermediate goods has risen from 2.1% in December to 4.3% in April. But even including energy, commodity futures prices in mid-May were already down 5% from their highs of two months earlier.
Oil, of course, is the most visible commodity. But the Fed tends to view high oil prices more as a damper on growth than a fuel for inflation. A sustained $10-per-barrel rise in prices acts like a tax on spending, cutting growth by some 0.5 percentage point. So expensive oil actually will help the Fed to stick to its vow to tighten policy at a "measured" pace.
Moreover, barring a new round of terrorist shocks, oil prices are likely to fall by yearend. China is acting to cool its surging economy, which was boosting world oil demand. And prices at the current level will encourage additional supply, both from non-OPEC sources and OPEC members who will cheat on their output quotas. Plus, gas prices should ease as seasonal demand slows.
FOR GOODS OUTSIDE OF OIL, the sudden pickup in spending abetted the recent rise in prices by causing sharply slower delivery times, historically lean inventories, and some spot shortages.
Now, industry is beginning to catch up. First, industrial output jumped 0.8% in April and is now growing at a pace last seen in the late-1990s boom. Second, business inventories are expanding. Stockpiles at manufacturers, wholesalers, and retailers rose 0.8% in February and 0.7% in March, the largest two-month increase in more than four years.
Yet even that buildup wasn't enough to offset the burst in demand. So far this year stock levels are up only 1.7% compared with the 4.2% rise in sales. The ratio of inventories to sales, a measure of the adequacy of stock levels, continues to fall below its long-run trend (chart). By yearend, as inventories climb into better balance with sales, the pressure on the supply chain will ease quickly.
That's especially true now that imports are flooding the shores once again. March imports of nonpetroleum goods surged 4.4% from February, and they are growing at the fastest yearly pace in more than a year. Imports will satisfy a sizable share of U.S. demand in coming months, which will prevent any steep rise in operating rates.
True, the dollar's decline has made imports more expensive, giving U.S. sellers some cover to boost their prices. But the broad, trade-weighted dollar is only down to its levels of the late 1990s, when it was 50% higher than in the early 1990s. That means global competition remains tough. And with today's technology, that heated international competition includes labor.
IN FACT, THE KEY ARGUMENT why the recent rise in prices will prove transient is this: Inflation cannot be sustained without broad upward pressure on business costs, and that means labor expenses, which average about 70% of the cost of doing business. And on this front, hints of inflation are hard to find. The labor pool is still deep, and compensation is growing only moderately.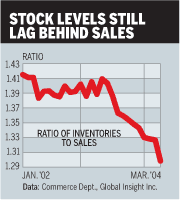 Most important, productivity growth remains strong enough to hold in check the cost of producing each unit of output. In the first quarter, productivity in the nonfarm business sector grew 5.4% from the previous year, more than offsetting the 4% advance in labor compensation, meaning that unit labor costs actually fell 1.3%.
As productivity slows this year from its rapid clip of late, unit labor costs are sure to pick up. But profit margins are so wide that many businesses will be able to absorb those costs instead of making huge markups on prices, a move that could cost them sales in a highly competitive marketplace.
Of course, arguments over why inflation isn't a sustainable threat may seem like nonsense when you're spending $40 to fill your gas tank. But underlying trends, including rebuilding inventories and managing labor costs, are already asserting themselves into the price outlook. And none of the economic fundamentals signal that the current run of inflation will gain traction.
By James C. Cooper & Kathleen Madigan
Before it's here, it's on the Bloomberg Terminal.
LEARN MORE