Toyota's Youth Models Are Having Growing Pains
Riawna Lewis is a big Scion fan. The 23-year-old hairstylist says she gets plenty of stares when she cruises around Santa Monica, Calif., in her boxy xB wagon. But Lewis also has complaints. The stereo makes a popping noise when she plays compact disks, and when she fills her gas tank, the pump often thinks the tank is full when it's not. "I don't want to bash on Scion because I love it," Lewis says. "I'm going to call and let them know."
Measured purely by how quickly cars are flying off dealer lots, Scion, a youth-oriented marque launched by Toyota Motor Corp. (TM ) in California a year ago, has been a roaring success. Even though it's now available in only 24 states, Toyota is selling 5,200 cars a month -- 10% better than it expected. By next year, the company hopes to bump that figure up to around 8,000 cars.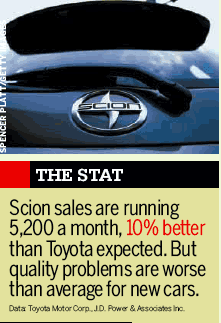 But with Scion set to roll out its third model -- the $16,400 tC sports car -- and go nationwide in June, Toyota is running into a litany of gripes from customers about poor quality. What's more, a survey of teens conducted by the researcher TNS Automotive North America gave the Scion fair to negative marks. "It's very unusual for a brand to have a negative response so soon after a launch," says TNS research chief Andy Turton. He notes that teens get turned off if they think a company is trying to manipulate them. The danger is that Toyota could alienate its target audience -- the under-26-year-olds who make up the next generation of car buyers.
Toyota's experience with Scion brings to mind the old saw: Be careful what you wish for. With its trendily styled, gadget-stuffed econo-cars, Toyota set out to attract Gen Y. And it has largely succeeded: The average Scion driver is 27 years old, says Art Spinella, president of CNW Marketing Research Inc. in Bandon, Ore., vs. age 39 for Toyota as a whole.
But as marketing professionals know well, younger buyers can be far more picky than their older counterparts. "They have much higher expectations," says James Farley, Toyota's vice-president for the Scion brand. He notes that Scion is getting three times as many customer comments -- both positive and negative -- than Lexus, which has notoriously vocal buyers.
The shock for industry observers came when Scion scored badly in this year's initial quality survey, conducted by industry researcher J.D. Power & Associates Inc. After all, Toyota is practically synonymous with quality. But in the survey, Toyota's youth brand received 158 complaints for every 100 cars, vs. the industry average of 119. True, the gripes reflected relatively minor problems rather than issues worthy of a recall. Among them: rattles, wind noise, air conditioners that don't cool fast enough, heaters that aren't hot enough, and insufficient power.
Toyota says such glitches are typical of new models, especially low-priced ones with lots of extras. But it can't afford to ignore the problems, say analysts, since young buyers are fickle. "Toyota has to address the issue, especially with this group," says Spinella. While the company won't say what it's doing to fix the problems, Farley says quality-control teams are hard at work tackling customer complaints. They'd better be. Toyota's big experiment in youth marketing depends on it.
By Christopher Palmeri in Los Angeles
Before it's here, it's on the Bloomberg Terminal.
LEARN MORE