Chile: Why Bust Doesn't Have To Follow Boom
Chile's economy has always been vulnerable to big swings in global commodity prices. Not surprisingly, with demand and prices red-hot, the world's largest copper producer is rapidly emerging from a long malaise that dates back to the 1997 Asian crisis and has continued through the global slowdown of recent years. And Chile may be better equipped to deal with the boom-bust commodity cycle that has threatened its stability in the past.
Fueled in part by the recent doubling of copper prices, the economy expanded in March at a 6.3% clip from the year before, the fastest pace in nearly six years. Overall exports in April surged 49% from the previous year, and domestic demand is being encouraged by low interest rates and stable prices. The central bank has slashed interest rates to 1.75%, including back-to-back half-point cuts in late 2003 and early 2004. The economy is expected to grow 5% to 5.5% this year, far faster than the 3.5% growth rate anticipated for the entire Latin American region.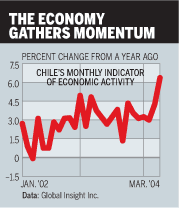 Better yet, bust may not inevitably follow boom this time around. Analysts Gray Newman and Claudia Castro at Morgan Stanley (MWD ) argue that the economy is more open than in the mid-1990s and that key reforms have made Chile less susceptible to global shocks, including a rule requiring a structural budget surplus, which has made fiscal policy more effective. Most important, they say, is that investment financing is less dependent on copper prices, which tended to create a feast-or-famine situation. Now, Chilean finances are aided by the country's investment-grade credit rating, more favorable debt ratios, lower country risk, and its many free-trade agreements.
The real test of Chile's stability may lie in how fast the economy accelerates in the coming year. The country is unlikely to return to the scorching growth rates it posted in the mid-1990s. But the same economic reforms that are aiding growth should help to cushion the next downswing in commodity prices. Plus, because Chile's exports are evenly divided between Asia, Europe, and the Americas, it'll be less vulnerable to a cooling of Chinese demand.
By James C. Cooper & Kathleen Madigan
With Geri Smith in Mexico City
Before it's here, it's on the Bloomberg Terminal.
LEARN MORE