Why Tongues Are Wagging About Yak
By Gene G. Marcial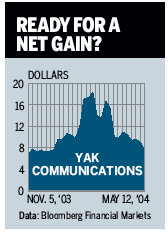 Yak Communications (YAKC ) may sound like a strange name, but it fits: The company offers discount services to people who do a lot of long-distance yakking over the phone. Its primary market is ethnic (mainly Chinese and Indian) residential and small-business customers. It's big in Canada, where it holds 75% of the so-called dial-around market. Dial-around allows callers to bypass their pricey long-distance carriers and connect to a cheaper one by dialing 1010, followed by a code of three numbers. Yak is routing traffic in 23 U.S. states. Now it is preparing to offer low-rate service over the Web, which would be launched by Sept. 8, says CEO Charles Zwebner. The so-called Voice over Internet Protocol transmits phone calls over a data network -- like the many networks that make up the Internet. Paul Sethi of Vertical Ventures, which owns shares, says the Internet service should boost the stock, now at 7.30 a share, to its old high of 20 in a year. He predicts earnings of 50 cents to 60 cents a share in fiscal 2004 ending June 30, up from 2003's 29 cents.
Note: Unless otherwise noted, neither the sources cited in Inside Wall Street nor their firms hold positions in the stocks under discussion. Similarly, they have no investment banking or other financial relationships with them.
See Gene on Fridays at 1:20 p.m. EST on CNNfn's The Money Gang.
Before it's here, it's on the Bloomberg Terminal.
LEARN MORE