Mexico City Gets A Face-Lift
As the capital spiffs up its historic center, visitors are discovering its cultural treasures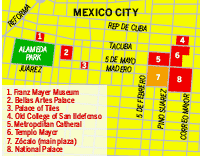 Mexico City has traditionally been a destination to get into and out of as fast as you can. Vacationers often see little more than the airport as they make their connecting flights to Puerto Vallarta or Cozumel. Business travelers vie to escape the megalopolis on weekends, leaving behind the pollution, traffic, street crime, and crush of its 16 million inhabitants.
But Mexico City is giving visitors more reasons to stick around. Sidewalks along the majestic main avenue, Paseo de la Reforma, have been rebuilt, planted with flowers, and decorated with whimsical metal sculptures in an open-air exhibit called "Urban Cacti." Courteous police officers in smart new blue uniforms have tamed unruly traffic, making it safe for pedestrians to cross the six-lane avenue that separates the recently refurbished National Museum of Anthropology from Chapultepec Castle, whose museum rooms reopened after a four-year restoration to their pre-Revolutionary splendor.
By far, the biggest drawing card is the historic city center, which is undergoing a face-lift. First inhabited in 1325 by the Aztecs, who called it Tenochtitlán, it was a powerful center of 200,000 inhabitants before Emperor Moctezuma II fell to Spanish conqueror Hernán Cortés in 1521. When the Aztecs reigned, the area was an island in a great lake. The Spanish drained the lake and built what 19th century German naturalist Alexander von Humboldt called the "City of Palaces."
The 680-block area is full of colonial treasures, starting with the central plaza, or Zócalo. There, the National Palace has murals painted in the early 1930s by Diego Rivera depicting scenes of Mexico's colonization and the 1910-20 Revolution. Nearby is the majestic Metropolitan Cathedral, constructed between 1573 and 1810, and the excavated Templo Mayor, the pyramid to Aztec god Huitzilopochtli that was the site of tens of thousands of gruesome ritual sacrifices.
Over many decades, the historic center had deteriorated, with old colonial structures turned into tenements and sidewalks taken over by vendors and pickpockets. But all that is changing as the area undergoes extensive renovations by the city and federal governments in partnership with a business group led by billionaire Carlos Slim, who controls Telmex, the national telephone company. Over the past three years, Slim and fellow investors have been buying up dozens of centuries-old palaces and other real estate and fixing them up.
SECURITY CAMERAS
Meanwhile, the government has buried electric and telephone cables and replaced old asphalt with paving stones. It has also relocated street vendors and installed nearly 100 security cameras to crack down on crime. Heavy traffic means pollution is still bad, but pedicabs make getting around quick and easy. The result: Young people are moving into downtown lofts, and hip coffee shops, bookstores, and restaurants are following. Yet the area doesn't risk becoming overgentrified: City officials are working with low-income residents to help them refurbish their dwellings.
It's easy for visitors to get downtown: For $10, they can ride all day on the new red, double-decker, hop-on, hop-off tourist buses that shuttle between the most important tourist sites. These include the Venetian-style Post Office and the Bellas Artes opera house, an art deco gem featuring a 22-ton mosaic-crystal curtain made by Tiffany (TIF ). Along the way, passengers are given disposable headphones to listen to recorded explanations in any of five languages. They can hop off to visit art galleries around the trendy Condesa neighborhood or to check out the shopping and café scene on posh Avenida Masaryk. Old mixes with new: The brand-new Torre Mayor, the tallest building in Latin America, is the gateway to the historic downtown.
New York entrepreneur Marc Wynkoop and his partner, Veeraf Sanjana, a doctor, visited Mexico City recently and said they loved the lively outdoor cafés, the food, and the vast cultural treasures. "We were impressed and surprised at how sophisticated the people are and how elegant the city is," Wynkoop says. They were "floored" by the Anthropology Museum's vast collection of 30 centuries' worth of artifacts from the ancient Maya, Mexica, Aztec, and Gulf cultures, including the famous Aztec calendar stone. "Most Americans, when they think of ancient culture, think of Egypt," says Wynkoop. "They never think of Mexico." As Mexico City cleans up its act, more visitors may stop there and learn this for themselves.
By Geri Smith
Before it's here, it's on the Bloomberg Terminal.
LEARN MORE