Germany: So Much for Schröder's Agenda For Change
In March, 2003, German Chancellor Gerhard Schröder unveiled his grand plan for structural reforms, called Agenda 2010. Unfortunately, prospects for change have faded along with Schröder's popularity, and opposition is rising. The inability to institute needed change is hampering the recovery and will put Germany at a disadvantage in the enlarged European Union.
Over the past year, reforms have been few and far between. The successes, such as tax cuts and the scaling back of worker-protection laws late last year, passed only in watered-down form. Other proposals, such as a bill that would tax retirement benefits and stop taxing pension contributions, were recently approved by the Parliament's lower house, but Elga Bartsch, a Morgan Stanley (MWD ) economist, says those are likely to be the last ones before politicians focus on the 2006 general election.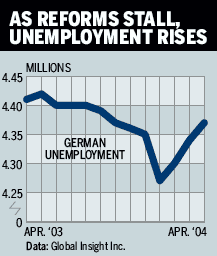 Opinion polls show the public is tiring of the reform efforts. Trade unions continue to successfully resist replacing the practice of national wage negotiations between unions and employer federations with bargaining at the individual-company level. And there is growing discord among coalition-government officials over how far to go with change. Many analysts speculate that Schröder may reshuffle his cabinet as early as June.
This lack of progress appears to be weighing on the economic recovery. Despite greater demand largely from abroad, businesses are still cutting jobs. Unemployment rose by 23,000 in April, a third straight monthly increase. High labor costs and little-changed labor laws have businesses looking to meet demand via greater productivity from current workers and capital investment in more efficient technology. The poor jobs picture has many consumers on edge, and their reluctance to shop is crimping domestic demand.
More troubling: A lack of progress will lead many German companies to move operations elsewhere. Indeed, lower labor costs and taxes in neighboring countries such as Poland and the Czech Republic look even more attractive now that those nations have joined the EU.
By James Mehring in New York
Before it's here, it's on the Bloomberg Terminal.
LEARN MORE