Nissan: The Squeaks Get Louder
A slew of defects is dragging down the cars' J.D. Power ratings
Scott Mount's Nissan Armada gives him a headache -- literally. Soon after buying the SUV in December, the Orange County (Calif.) restaurant manager began experiencing skull-jarring vibrations from the roof. What's worse, the brakes squealed, and clicks emanated from the rear. Mount says the dealer replaced the brakes, checked the rear, and tried to quell the roof noise, but he remains unsatisfied. This is Mount's fifth Nissan, and it may be his last. "I won't buy another vehicle from them if they don't do something about this Armada," he swears.
Five years after CEO Carlos Ghosn kicked off an astounding comeback that has unleashed a half-dozen hot-selling vehicles on the U.S. market and generated solid profits after years of losses, Nissan Motor Co. (NSANY ) is having serious growing pains. Quality problems with the Armada, the Quest minivan, and the Titan full-size pickup dragged down Nissan's ranking in J.D. Power & Associates' annual initial quality survey, which reflects flaws found by owners in the first 90 days. In the survey, which was released on Apr. 28, Nissan finished 11th, way down from last year's 6th place. And the 147 problems spotted per 100 vehicles trail the industry average of 119.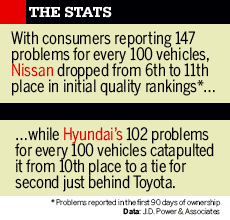 That could spell big trouble for the Japanese auto maker. These problem-plagued vehicles represent a new thrust into key market segments -- minivans, big pickups, and SUVs -- already well served by Honda Motor (HMC ), Toyota Motor (TM ), and the Big Three. And all three are made at a year-old plant in Canton, Miss., built to boost Nissan's U.S. market share. Says Wesley R. Brown, an analyst at Los Angeles auto consulting firm Iceology: "If there isn't a quick fix, this could derail their momentum."
It isn't the first time Nissan has had quality woes. The Altima sedan, built at the company's 21-year-old plant in Smyrna, Tenn., has also had bumps. But they weren't as serious as those from the Mississippi factory, where poor craftsmanship was the chief complaint from consumers, says J.D. Power. And while squeaks, rattles, and vibrations account for many of the complaints, more serious issues have prompted two recalls of the Quest minivan -- including one for a sliding door that opened when drivers accelerated rapidly.
That, as it turns out, may be an apt image for what ails Nissan, which has been pedal to the metal since 1999. In that time the company has launched 13 new vehicles in the U.S. -- most engineered when Nissan was emerging from a near-death experience. The carmaker knew it was being aggressive, but since its quality was pretty decent, execs thought they could pull off the crowded launch schedule. Analysts, however, say Nissan lacked the engineering resources to check thoroughly for defects before cranking up the assembly lines.
CHEAP MATERIALS. What's more, Ghosn was seeking to roll out the new models while demanding price concessions from suppliers. As a result, Nissan often used cheaper materials at the expense of manufacturing precision. One consultant, who took apart a Titan to study it for a rival, says that certain internal parts aren't made to fit together as precisely as at Toyota and others. That forced assembly line workers at Canton to find ways of fitting the pieces snugly together -- hardly ideal since many of them had never worked at a car plant before.
Putting an end to the problems will be crucial, since initial quality problems often affect long-term reliability. "These things tend to persist," says Joe Ivers, executive director for quality and customer satisfaction at J.D. Power. "If things are this extreme, it will probably wind up costing them in warranty costs." The auto maker says it's investigating the problem vehicles and the Canton plant. At the same time, Nissan is beefing up its engineering talent and spending more on parts and materials to ensure that future models have better quality. It is also replacing the Quest dashboard responsible for some squeaks. "We're going to address all of the issues," says a company spokesman.
Nissan has won thousands of new customers during the past three years with its powerful and stylish vehicles. But all that hard work could be for naught if Ghosn & Co. can't improve quality.
By David Welch in Detroit
Before it's here, it's on the Bloomberg Terminal.
LEARN MORE