Wynn Resorts: Place Your Bets
By Gene G. Marcial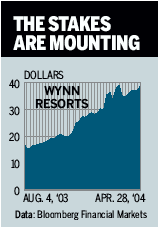 Wynn Resorts (WYNN ) is a gamble on mogul Steve Wynn, his new Las Vegas project, and a still-to-be-built casino in Macao. Many early birds who bought Wynn stock when it went public at 13 in October, 2002, took their profits as the stock soared to 39, where it is now. But some investors stayed -- believing the fun had just begun. More people "recognize the huge potential of Wynn's projects -- and are aware of Steve Wynn's track record," says Marc Falcone of Deutsche Bank-North America (DB ), which has done banking for Wynn. Falcone has a 12-month target of 46 for the stock and a 30-month target of 59, based on cash-flow and earnings forecasts for the Nevada and Macao projects.
Macao could really thrive as Asia's gambling mecca, he says. In 2003, betting in Macao, where Wynn has a 20-year pact to build and operate unlimited casinos, generated revenues of $3.6 billion, notes Falcone. He sees Macao growing at 20% to 25% annually for several years. The Macao casino is slated to open in mid-June, 2006. The Vegas resort is set to begin operations in April, 2005. William Lerner of Prudential Securities (PRU ) rates the stock overweight, with a 24-month target of 55. The stock has yet to reflect "the magnitude of Wynn's phenomenal prospects," he says. At present, Wynn has no sales. But Lerner sees revenues of $738 million in 2005; earnings before interest, taxes, depreciation, and amortization (EBITDA) of $229 million; and earnings per share of 84 cents. In 2006, he sees revenues of $1.2 billion, EBITDA of $356 million, and earnings of $1.74.
Note: Unless otherwise noted, neither the sources cited in Inside Wall Street nor their firms hold positions in the stocks under discussion. Similarly, they have no investment banking or other financial relationships with them.
See Gene on Fridays at 1:20 p.m. EST on CNNfn's The Money Gang.
Before it's here, it's on the Bloomberg Terminal.
LEARN MORE