U.S.: Higher Rates Won't Hammer Housing
The market may cool a bit, but a robust economy should keep sales up
The end of cheap money is rapidly drawing near. Improving labor markets and pricing power are moving the Federal Reserve ever closer to a series of interest-rate hikes that will affect the entire maturity spectrum of fixed-income securities. With long-term rates already up sharply in recent weeks, the focus has been put squarely on the outlook for housing, the economy's most interest-sensitive sector. How will housing demand, homebuilding, and home prices hold up?
Much depends on the speed with which the Fed acts in coming months. Surprisingly strong data on job growth, inflation, and durable goods orders in recent weeks have pushed up the benchmark yield on 10-year Treasury bonds by 75 basis points since Mar. 23, to 4.44%, as the bond market builds in expectations of Fed tightening. As a result, the national average rate on a 30-year fixed mortgage rose from 5.38% in mid-March to just shy of 6% in late April (chart).
Consumers rushed to lock in the first-quarter drop in mortgage rates. New home sales in March jumped 8.9% to a record annual rate of 1.23 million. Existing home sales rose 5.7% to a 6.48 million pace, second only to November's record of 6.68 million. And mortgage demand in April was robust, even with the runup in rates. Applications to purchase a home in the first four weeks were running higher than March or February levels.
History shows that mortgage rates have to go over 8% before a large number of prospective buyers are shut out of the market. And unless inflation spikes, which seems unlikely, the rise in interest rates in general -- and mortgage rates in particular -- will be slow. As a result, housing activity undoubtedly will cool off from March's superheated pace, but home demand and new construction are unlikely to crumble this year.
THE BEST ARGUMENT against a collapse is the fact that rates are up mainly because the recovery is finally gaining traction and broadening out. Rates were historically low in recent years as a result of economic distress, mainly the threat of deflation and huge job losses. As prospective rates of return on investments rise within an improving economy, it's only natural for higher borrowing costs to reflect those brighter prospects. A stronger economy will offset some of the impact of higher interest rates.
Indeed, businesses are increasingly optimistic. They are expanding operations and beefing up inventories. They also are lifting payrolls, which will ultimately generate more income for consumers. Plus, consumer confidence is on the rise again. All this will provide a solid underpinning for housing.
Besides, based on statements by Fed Chairman Alan Greenspan, the bond market may well be getting ahead of itself. So far, Fed officials see no urgent inflation threat that would force them to jack up rates sharply. That's because productivity gains are still strong through the first quarter, and plenty of slack remains in the labor markets and in industrial capacity. As a result, recent inflation worries may be overblown.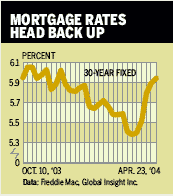 True, the surge in prices of raw materials, excluding energy and food, is beginning to lift prices in the intermediate stages of industrial production. That sector, including processed goods that go into finished products, is where many of the reports of increased pricing power are coming from. But through March, prices of finished goods outside of energy and food, while no longer flat or falling, are up only 0.7% from the previous year, and core consumer prices are up 1.6%. Even if the inflation rate were to rise by one percentage point by yearend -- an unlikely proposition -- the spread between core inflation and long-term rates over the past decade suggests that mortgage rates would remain below 7.5%.
EVEN AT THAT RATE, homeownership is affordable for most families. Consider a new home with the current median price of $201,000 and a downpayment of 20%. The latest 75 basis-point increase in rates boosts a monthly mortgage payment by only $61. Given the U.S. median annual salary of about $54,000, the mortgage payment still captures only 21% of the household budget. At 7.5%, the payment is $1,118, or 24.9% of income.
But at 8%, the payment for that same house rises to $1,174, or 26% of the monthly budget. Since most lenders want borrowers to devote no more than 25% of their gross income to the mortgage, any rate above 8% pushes homeownership out of the reach of many families. That's why 8% is seen as the demarcation between housing doing well and demand starting to dry up. Since mortgage rates are unlikely to go that high in 2004, home sales and construction should be a positive contributor to gross domestic product growth in coming quarters.
That's especially true given the mix of new homes sold. According to Commerce Dept. data, the number of new homes sold but not yet started hit a record in March, or more than 40% of all homes sold. Homes already completed accounted for just 25.8% of sales. Those shares are a huge switch from the early 1980s, when completed homes were 45% of sales and unstarted houses captured only 20% of the market.
WHAT'S BEHIND THE SHIFT is twofold. First, in an era of Trading Spaces and HGTV, buyers prefer more of a say in what goes into their new homes, from the tile color in the master bath to the flooring in the family room.
Second, and more important, builders have learned their lesson from the 1980s, when developers put up too many new homes on speculation. When sky-high mortgage rates and the twin recessions caused demand to collapse, builders were left with a huge overhang of inventory. Prices were slashed in some parts of the country, and many builders went bankrupt.
Having been burned once, developers now wait for demand to generate supply. This caution will be a big plus for the economy. As builders put up the new homes already sold in March, the construction activity should add to GDP growth for the next two quarters.
In addition, that approach to building will provide a safeguard against falling home prices even when sales begin to weaken toward the end of 2004 or in 2005. Builders won't have to hold fire sales to move excess inventory, which would tend to push down all home prices in a region.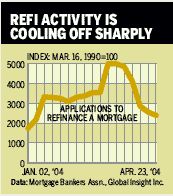 But rising rates do mean the end of the price surges in some parts of the U.S. It all comes back to affordability. Higher mortgage costs limit the amount buyers can bid up home prices.
Higher rates have also effectively turned off the refinancing spigot. Refi applications have fallen by nearly half from mid-March to mid-April (chart). Consumers will have less money from refi cash-outs. Luckily, income gained from the rebound in the job market should offset some of that loss.
Of course, the improving job situation is one trend scaring the bond market. But for consumers and potential new homeowners, better hiring always is a good thing. So is stronger income growth. And if you look beyond the skittishness in the bond market and examine the reasons for the jitters, it's easy to remain optimistic about housing's performance in 2004.
By James C. Cooper & Kathleen Madigan
Before it's here, it's on the Bloomberg Terminal.
LEARN MORE