Britain: A Little More Pressure On The Brakes
The Bank of England faces a delicate task in the coming year: It must raise interest rates enough to rein in runaway consumer borrowing and housing prices without bringing the economy to a dead stop. Judging by the latest data, the BOE has plenty of work to do.
First, the slowdown in first-quarter growth in real gross domestic product appears to be misleading. Real GDP expanded a much lower than expected 0.6% from the fourth quarter, or 2.4% at an annual rate, following that quarter's gain of 0.9%. But the Office of National Statistics noted that the response rate to its questionnaire was unusually low because of the Easter holiday, suggesting that next month's revised numbers will look stronger.
The GDP data show that industrial output actually fell 0.5% last quarter, and the huge service sector posted a 0.8% advance. Both gains were well below expectations, given healthy-looking survey data from the nation's purchasing managers, the Confederation of British Industry, and the British Chambers of Commerce.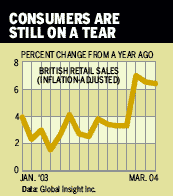 When more sector detail becomes available with the May revised data, consumer spending is almost certain to maintain its lead role in growth. Retail sales in March rose a sturdy 0.6% from February, after adjusting for inflation, capping a robust first-quarter showing. Reflecting the relentless strength in housing, March sales of home-related items were especially healthy.
So far, the BOE's quarter-point rate hikes in November and February, to 4% from a 48-year low of 3.5%, have done little to curb consumers' enthusiasm. Rates remain historically low and employment is at a high, with real wages accelerating. Plus, the stock market is rising, and house prices last quarter were up 18.5% from the year before.
The markets expect another rate hike at the BOE's May 6 policy meeting and that rates will have to climb to the 5% to 5.5% range in the coming year. But as a result of the attempt to cool housing and consumer demand, the trade-weighted pound already has gained some 3.5% this year. The fear: Manufacturing could suffer collateral damage as rates rise further.
By James C. Cooper & Kathleen Madigan
Before it's here, it's on the Bloomberg Terminal.
LEARN MORE