Weaker Vital Signs At Hospitals
The number of patients in default on their bills is off the charts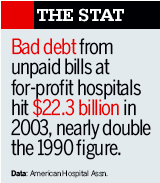 When Rodney L. Bellows began suffering severe abdominal pains last May, the 36-year-old security guard was rushed by ambulance to Sutter Memorial Hospital in Sacramento. Following a pair of CAT scans, Bellows says, doctors diagnosed him with kidney stones, dispensed painkillers, and sent him home several hours later. A few weeks later, Bellows suffered a new bout of discomfort when he received a $7,300 bill. With an annual income of $11,000 and no health insurance, Bellows has no idea how he'll ever repay the hospital. "Maybe I'll win the lottery," he sighs.
Bellows' plight symbolizes what Tenet Healthcare Corp. (THC ) CFO Stephen D. Farber calls "perhaps the greatest financial challenge" facing the hospital industry: the growing number of patients who can't pay their bills. On Apr. 14, the nation's largest for-profit hospital chain, Nashville-based HCA Inc. (HCA ), warned that earnings for the first quarter and full year would be nearly 9% below expectations due to a surge in bad debts. Coming after similar warnings from Tenet and Universal Health Services Inc. (UHS ), Wall Street sent HCA and other hospital stocks tumbling as much as 9%.
Why the sharp rise in unpaid hospital bills? Blame much of it on the swollen ranks of the jobless, many of whom have little or no health insurance. Sweeping moves by employers to shunt more of the health-care burden to their workers have added to the problem, as even those with insurance more frequently face hefty tabs for emergency room visits. Hospitals have become "the ultimate safety net," HCA CEO Jack O. Bovender Jr. told analysts after issuing the warning. "This is a cost the hospital industry is increasingly bearing alone."
Turning patients away isn't an option: Under a 1986 federal law, emergency rooms must accept everyone regardless of means. Since then the number of uninsured has risen steadily -- surging 8%, to 43.3 million, between 1999 to 2003 alone. As a result, the nation's hospitals in 2003 piled up $22.3 billion in bad loans -- or nearly twice as much as in 1990. At HCA, provisions for bad debts now represent 11.7% of revenues -- a big rise over the 7% considered acceptable as recently as the late 1990s.
The question is whether the problem is temporary. In the past, when the job market picked up as the economy recovered, many of the unemployed found new jobs that provided medical insurance. But some hospital execs worry that may not be the case this time. For one thing, fewer companies now provide medical coverage; just 66% today, the Henry J. Kaiser Family Foundation reports, compared to 69% in 2000.
What's more, companies that provide medical coverage increasingly are making employees pick up more of the costs. Roughly a third of employers now require workers to front annual deductibles ranging from $1,000 to $5,000 before payments kick in. As a result, hospitals say they're having a harder time getting the insured to cover their deductibles. The shift "may make it difficult for hospital companies to ever get their bad debts back down to the old 6.5% to 7% levels," warns Fulcrum Global Partners LLC analyst Sheryl R. Skolnick. "This may be a permanent change."
That's one reason the industry is stepping up efforts to manage the bad debt. Already under fire for charging uninsured patients more than those with coverage, HCA, Tenet, and others have begun providing discounts to low-income patients. Smaller bills, they hope, may prompt people to agree to payment plans. And HCA is sending nonemergency cases to less expensive venues. But stringent debt collection likely won't be part of the remedy: After critics excoriated hospitals for overly aggressive tactics, most adopted a gentler approach. As a result, many execs figure they may continue to recoup less than 10% of the outstanding bills. "There are no quick fixes to this problem," says HCA President Richard M. Bracken. Which means hospitals may soon need as many debt collectors as doctors.
By Dean Foust in Atlanta
Before it's here, it's on the Bloomberg Terminal.
LEARN MORE