Imation's Storage Gear Is Clicking
By Gene G. Marcial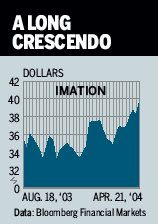 The rising popularity of recording videos and music, including downloading music from the Web, is firing up sales at Imation (IMN ). A maker of "removable data storage" products, ranging from tape cartridges and diskettes to blank CDs and DVDs, Imation has just announced better-than-expected first-quarter results. "The explosion in data that enterprises and consumers want to store is pushing up demand for these devices," says Rodney Hathaway, portfolio manager at Heartland Value Plus Fund, which owns stock.
Imation's clean balance sheet -- with $411 million in cash, or $11 a share, and no debt -- is adding to the stock's luster, he says. Hathaway sees the stock, now at 39.81, at 58 in a year. He figures Imation will earn $2.45 a share in 2004 and $2.70 in 2005. Richard Stice of Standard & Poor's says that Imation is rated "accumulate," based on the "intrinsic value calculation using discounted cash flow analysis."
Note: Unless otherwise noted, neither the sources cited in Inside Wall Street nor their firms hold positions in the stocks under discussion. Similarly, they have no investment banking or other financial relationships with them.
See Gene on Fridays at 1:20 p.m. EST on CNNfn's The Money Gang.
Before it's here, it's on the Bloomberg Terminal.
LEARN MORE