Euro Zone: The Newbies Will Set The Pace
On May 1, 10 countries will join the European Union, the next step in their goal to adopt the euro. The eight Eastern European countries plus Malta and Cyprus are posting better economic growth numbers than the euro zone. The trend is likely to persist and may push current members to make much-needed reforms.
One reason the accession countries are expected to grow far faster than the euro zone this year is productivity growth (table). After adjusting for wage differentials, workers in the accession countries are up to twice as productive as euro zone employees, according to a report by J.P. Morgan Chase & Co. economists Michael Marrese and Nora Szentivanyi. The rapid productivity gains allow for greater profits and real wage advancements, key ingredients to spurring demand.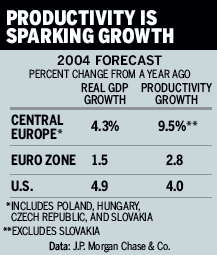 To be sure, euro zone workers are more efficient on an absolute basis, but the gap is narrowing. Morgan forecasts industrial productivity growth for the three largest entrants -- Poland, Hungary, and the Czech Republic, which make up 79% of the accession nations' total gross domestic product -- will be 9.5% this year, vs. 2.8% for the euro zone. A big reason for the gap is a strong inflow of foreign direct investment. Foreign companies that overhaul or build plants are bringing in better technology.
In addition, the newest members have lower corporate tax rates. The average rate for the accession countries is near 20%, vs. more than 30% for the euro zone. Their entry into the EU and their more attractive business environment should draw in even greater levels of FDI to these countries. That should bring further gains in productivity.
The virtuous cycle that the new entrants appear to be building will add pressure on established members to reform their labor markets, tax codes, and social benefits programs, such as pensions. The expanded euro zone is "not embarking on a zero-sum game, but instead [is] establishing a dynamic setting in which the [accession countries] have secured initial advantages," says Marrese. But the established members have a long way to go to catch up on productivity growth.
By James Mehring in New York
Before it's here, it's on the Bloomberg Terminal.
LEARN MORE