Big Oil Treks Back To Tripoli
Western execs are offering Qaddafi cash for exploration and production rights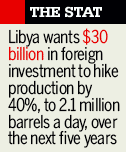 It was the deal that put Occidental Petroleum Corp. (OXY ) on the map. Back in the 1960s, Oxy Chairman Dr. Armand Hammer came calling on King Idris of Libya with a bold plan: He'd dig water wells in Libya's deserts in exchange for exploration rights to Libya's vast oil reserves. By the mid-'80s, the country accounted for 22% of Oxy's crude-oil production and 19% of its reserves. Now, nearly two decades after the U.S. imposed sanctions against Libya following the rise to power of dictator Colonel Muammar Qaddafi, Oxy wants back in -- only this time it's offering cold hard cash instead of wells. After meeting with Qaddafi in his desert tent in March, Hammer's successor, Oxy Chairman Ray R. Irani, says Qaddafi wants to "put all the problems with the West behind him. We're keeping our fingers crossed."
EASING SANCTIONS. Oxy isn't the only oil company trekking to Tripoli. Since February, when the U.S. government rolled back travel restrictions to Libya, Qaddafi has been meeting with a host of the world's oil execs, including reps from ConocoPhillips (COP ), Marathon Oil (MRO ), and Amerada Hess (AHC ). The trio make up the Oasis Group, a joint venture that until 1986 held a minority stake in a vast Libyan oil field. And in late March, execs from Anglo-Dutch Royal Dutch/Shell Group signed an exploration agreement, firing the first salvo in what is expected to be a lively battle among Western oil outfits to exploit Libya's energy resources. Its estimated 36 billion barrel oil reserves and 46.4 trillion cubic feet of natural gas make Libya the ninth-largest source of untapped oil and gas. "Libya is seen as a spectacular opportunity," says analyst Subash Chandra of Morgan Keegan Inc.
The caravan of oil executives bearing promises comes as Libya rushes to shed its pariah status following its acceptance of responsibility for the 1988 bombing of Pan Am Flight 103 over Lockerbie, Scotland, and an agreement with the U.S. to renounce its banned-weapons program. As a result, the Bush Administration is soon expected to lift some economic sanctions imposed nearly 20 years ago. While there is still debate in Washington over how far to go until Libya makes further progress on political reform and human rights, U.S. oil companies will probably be allowed to return.
Still, a huge rush into Libya is far from certain. For one thing, although Libya is still largely unexplored, recent finds have been modest. The government may also drive a hard bargain, slowing the process of awarding rights. But Libya does want American participation -- both for economic reasons and to end its diplomatic isolation. U.S. investment would be "a sign of international recognition," says Vera de Ladoucette, senior director for Middle East research at Cambridge Energy Research Associates in Paris.
The returning U.S. companies will face competition, however, as Europe's oil majors are also looking at Libya more intently these days. While some of them -- including ENI, Total (TOT ), and Repsol YPF (REP ) -- have been operating there for years, the European industry is as eager as the U.S. for a piece of the new action. They, too, are struggling to replace reserves in the face of tight supplies and rising demand. What's more, Western outfits will be vying for business to help Libya upgrade its aging refineries.
U.S. companies, forced out of the country in 1986, have the most to gain. Since then, the Libyans have operated their joint-venture projects alone. Now the Americans have begun negotiating their return to the fields. Qaddafi has welcomed back Oasis Group, which still holds a 41% stake in the Libyan National Oil Co.'s 13 million-acre Waha fields. Similarly, when Oxy left, it owned 222 million barrels in reserves and extensive exploration rights. All told, Libya wants $30 billion in foreign investment. That could hike production some 40%, to 2.1 million barrels a day, over five years.
No wonder Qaddafi's appointment book is suddenly filling up with the names of U.S. oil execs. A murderous Libyan dictator may not be anyone's idea of a great business partner. But as Armand Hammer showed long ago, a deal with the devil can be very profitable.
By Stephanie Anderson Forest in Dallas and Christopher Palmeri in Los Angeles, with Stanley Reed in London and Paul Magnusson in Washington
Before it's here, it's on the Bloomberg Terminal.
LEARN MORE