By Gene G. Marcial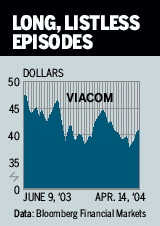 An advertising snapback is in the air, and media giant Viacom (VIA ) is rousing after a long sleepy spell. Since hitting 47 in June, the stock has trailed the market, slumping to 37 in mid-March. (Viacom was last mentioned in this column on Feb. 24, 2003, when it was at 36.55.) It has since edged up to 40.78. Ads account for 50% of revenues, so when they are weak, Viacom suffers ("Viacom: Too Addicted to Ads?" BW -- Apr. 19).
"Viacom offers an attractive valuation as it enters a period of improving fundamentals," says Jeffrey Kleintop of PNC Advisors, which owns shares in its $53 billion portfolio. He sees the stock climbing to 55 in 12 months, based on his earnings forecast of $1.61 a share in 2004 and $1.80 in 2005.
Viacom is cheap, he figures, at 21 times its estimated 2004 free-cash flow of $1.88 a share and 19.5 times 2005's estimated $2.07. This year, Kleintop expects Viacom to lift its dividend from 12 cents to 48 cents. A "tidal wave" of political ads in 2004 will be a big plus, says David Miller of investment firm Sanders Morris Harris, who rates it a buy. He already notes a rebound in spot TV. Another bright spot, says Miller, is the likelihood that CBS will "coast to a victory in total household [ratings] during the May 'sweeps'."
Viacom's other assets, including MTV and Nickelodeon, filmmaker Paramount, and radio's Infinity Broadcasting, are also expected to post gains.
Note: Unless otherwise noted, neither the sources cited in Inside Wall Street nor their firms hold positions in the stocks under discussion. Similarly, they have no investment banking or other financial relationships with them.
See Gene on Fridays at 1:20 p.m. EST on CNNfn's The Money Gang.
Before it's here, it's on the Bloomberg Terminal.
LEARN MORE