U.S.: Patience At The Fed May No Longer Be A Virtue
As growth accelerates, a 46-year-low fed funds rate is becoming untenable
It's beginning to look like the U.S. economy is on a tear. Business confidence soared to a 20-year high in the first quarter, and surveys of both industrial and service-sector companies show that business activity is at unusually high levels. Perhaps most important, jobs are coming back, maybe even faster than anyone had expected.
And on top of that, the latest retail sales data show that consumers are stepping up to cash registers in droves. A few more weeks of reports like this and the 6% growth rate in the second half of 2003 will look less like a fluke and more like a prologue to the first half of 2004.
Only recently, talk about the outlook has gone full circle. Worry that a moribund job market will short-circuit the economy is giving way to concern that inflation is about to pick up and that the Federal Reserve will soon have to lift interest rates. Those fears will grow as long as the economy looks as if it is outperforming the 4.2% growth rate projected by most economists for 2004.
To be sure, the two-year decline in inflation, which last spring raised concerns about outright deflation, is over. Driving that point home, the March consumer price index rose a greater-than-expected 0.5% from February, and even excluding energy and food, the core CPI jumped 0.4%. The yearly inflation rate hit 1.7% in March, after it bottomed out at 1.1% in June, 2002. The core rate, which gives a truer view of inflation's underlying trend, is running at 1.6%, up from 1.1% last November (chart).
All this is bound to make policymakers uneasy. The Fed is thinking about inflation not for this year, but in 2005 and 2006, since any change in policy operates with an extended lag. Even though prices are unlikely to jump significantly in 2004, the economy's surprisingly strong showing is rapidly moving the Fed ever closer to its first interest-rate hike in four years.
THE BOND MARKET is already showing its displeasure. The market now expects a move as early as this summer. After a near-record low of 3.68% in mid-March, the yield on 10-year Treasury bonds hit 4.37% on Apr. 14, pushed up by eye-popping reports on March jobs, retail sales, and inflation. Yields are a couple of upbeat economic reports away from a two-year high. Talk of higher rates is also starting to rattle the stock market.
The fact is, the Fed's current policy stance is becoming increasingly untenable -- especially now, when the job markets are looking stronger and when inflation appears to be turning the corner. The target for the federal funds rate is at a 46-year low of 1%, a rate designed for an economy on the brink of deflation. Even policymakers are saying 1% is inconsistent with the Fed's long-term goals for inflation and sustainable growth.
Weak labor markets had been the last restraint to a new cycle of Fed tightening. Now the central bank has the leeway to take interest rates back up to a level more consistent with a fast-growing economy. Fed watchers believe that if core inflation rises but stays below 2%, the Fed would like to move the funds rate up to a 3% to 3 1/2% range. That would put policy in a more "neutral" position, which neither helps nor hinders growth.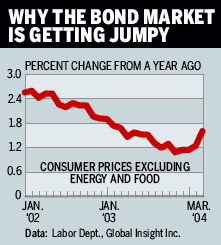 However, what worries investors is the uncertainty over both the speed and the transparency of coming Fed actions. Many bond folk still remember 1994. Back then, although inflation was still falling, the Fed moved policy quickly away from its overly stimulative stance necessitated by the real estate and savings-and-loan crises. The rapid moves, which included a rare 75-basis-point hike in the funds rate, wrought one of the worst bloodbaths in bond market history.
Bondholders also do not want a repeat of last spring, when some felt the Fed miscommunicated how worried it was about deflation. Yields plunged when many thought the Fed was ready to take the unusual step of buying Treasury bonds to boost the economy. When the Fed did not, yields sped back up, leaving many burnt investors grumbling about the Fed's openness. So this time, with transparency still a sore issue, the Fed will very likely do a better job of telegraphing its intent.
THAT SIGNAL COULD COME as early as the Fed's May 4 meeting. Past post-meeting statements have noted that the Fed "can be patient in removing its policy accommodation." Fed watchers will look for any change in that wording. Also, strong economic data may well trigger a shift in the Fed's view that risks in the outlook are evenly balanced. The chance of overly strong growth is beginning to outweigh the odds of unacceptably weak growth. Moreover, the risk of rising inflation is starting to overshadow the chance of falling inflation.
But any rise will be limited. True, strong U.S. spending, combined with robust Asian demand and the dollar's decline, is making some ripples in the price indexes. At the wholesale level, core producer prices of raw materials are up 26% from a year ago, the fastest pace since the late 1970s. But look further into the production stream and you'll find only minimal acceleration in prices for intermediate and finished goods.
At the consumer level, core prices of goods have stopped falling after a steady two-year decline. The turn most likely reflects rising import prices, a result of the dollar's drop. In addition, prices for core services are beginning to rise a shade faster.
But the jump in the March CPI is unlikely to be repeated in coming months. Two small categories, hotels and apparel, accounted for half of the 0.4% rise in the core index. Plus, the labor market still has a long way to go before wages and prices begin to drive each other higher. And despite the dollar's drop, abundant overseas capacity and intense global competition will limit the impact of higher import prices on the prices of all consumer goods.
THE NEW TWIST NOW in the outlook is the economy's surprising strength. The Conference Board's survey that reported the surge in business confidence last quarter also showed that half of all executives anticipate higher employment levels, compared with 16% a year ago. Not only did 90% of the CEOs say that current economic conditions have improved but their outlook for the next six months was "substantially more optimistic" as well.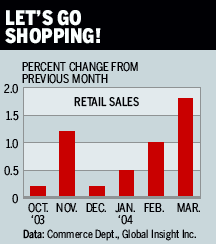 That optimism is beginning to fuel a key post-recession driver of growth: inventory replenishment. Up to now, businesses were hesitant to beef up their stockpiles. But in February, business inventories jumped 0.7%, the largest increase in 3 1/2 years. And unlike the stockpiling in 2000, this rise was an intentional response to strong demand.
That point was clear in the 1.8% surge in March retail sales and the upward revisions to February buying, now showing a 1% advance. Except for the sales response after the September 11 terrorist attacks, that's the strongest two-month gain in more than four years.
So far, the main factor allowing the Fed to be patient this year has been the economy's large amount of slack -- unused labor and production capacity. However, if the economy is indeed growing significantly faster than the policymakers had anticipated, then whatever slack exists is going to get used up a lot faster as well.
By James C. Cooper & Kathleen Madigan
Before it's here, it's on the Bloomberg Terminal.
LEARN MORE