Cytogen Sharpens A New Cancer Weapon
By Gene G. Marcial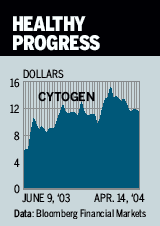 Cytogen (CYTO ), whose products help diagnose and treat cancer, could get a Food & Drug Administration O.K. by midyear for its new Combidex. So says Cynthia Davis of investment firm Caris, who rates Cytogen, now at 11.20, a buy, with a 12-month target of 22. The product is a magnetic resonance imaging agent that helps radiologists tell cancerous from benign lymph nodes.
Combidex will be a big boon to Cytogen, notes Davis, who figures an approval will add $5 million to its 2004 revenues, which she puts at $30 million. Cytogen markets three products already: ProstaScint, an imaging agent for prostate cancer; Quadramet, for pain relief in bone cancer; and NMP22 BladderCheck, a diagnostic test for bladder cancer. A phase 3 (large sample) clinical study of Combidex published in Radiology in September showed that it aids in the evaluation of metastatic lymph nodes, notes Davis.
She figures Combidex and the ramp-up in sales of Quadramet will boost Cytogen's 2005 revenues to $80 million, when she expects earnings of $1.10 a share. In 2006, she sees earnings of $2.60 on sales of $126 million, with Combidex contributing $50 million in sales.
Note: Unless otherwise noted, neither the sources cited in Inside Wall Street nor their firms hold positions in the stocks under discussion. Similarly, they have no investment banking or other financial relationships with them.
See Gene on Fridays at 1:20 p.m. EST on CNNfn's The Money Gang.
Before it's here, it's on the Bloomberg Terminal.
LEARN MORE