Canada: Light Rain On The Economy's Parade
As expected, the Bank of Canada cut interest rates at its Apr. 13 policy meeting. The quarter-point cut was the fifth since July, 2003, and was designed to boost domestic demand.
The BOC's announcement said the economy continued to "adjust to developments in the global economy." But for now the risks to the outlook, either from too-rapid inflation or too-slow growth, "appear balanced." That suggests the BOC is done with rate-cutting. Indeed, the economy is picking up steam. In March, consumer confidence rose by a large three percentage points. Housing starts jumped 14% from the February level, and the purchasing managers' index put out by the Richard Ivey School of Business at the University of Western Ontario hit a 9-month high. Canada's economy is expected to grow 3.2% this year, faster than the 2% of 2003.
On the negative side is the still weak labor market. Employment in March fell for the second month in a row, and the jobless rate rose to 7.5%.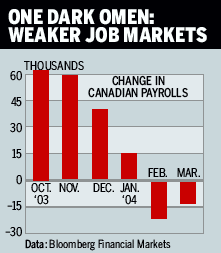 Another drag is the strong Canadian dollar. Exports should be benefiting from faster economic growth in the U.S., Canada's largest trading partner. But despite some recent weakness, the Canadian currency is still up by almost 20% against the U.S. dollar, compared with two years ago. As a result, the average price of Canadian goods sent to the U.S. jumped by 6.5% over the past year. On a price-adjusted basis, U.S. imports from Canada have been about flat in the past year, even as total U.S. imports have grown 8%.
To improve Canada's long-term prospects, Prime Minister Paul Martin wants a political mandate to make key changes to fiscal and economic policy. He had hoped to set national elections this spring, but that was delayed after a recent audit raised questions about payments of as much as C$100 million ($75 million) made to advertising firms connected to Martin's Liberal Party. Although the exact amount paid is in dispute, the scandal has pummeled the Liberals in the polls and threatens to leave Canada without a clear majority in Parliament. If so, Martin may find it tough to pursue his plans for health-care reform and a more equitable tax-sharing plan between Ottawa and municipalities.
By James C. Cooper & Kathleen Madigan
Before it's here, it's on the Bloomberg Terminal.
LEARN MORE