U.S.: Oh, What A Difference A Month Can Make
With the March jobs report, the economy looks a lot stronger than expected
Like its February predecessor, the March jobs report dramatically changed perceptions of the recovery. But this time, the shift was for the better. The Labor Dept. said nonfarm payrolls surged by 308,000 in March, the largest gain in four years. And it revised higher both the January and February data to show that job growth in the first quarter averaged 171,000 per month. That's a totally different picture compared with the paltry 60,000 pace suggested by the earlier numbers.
Remember it was the February employment report, which showed only 21,000 jobs created in that month, that raised speculation that the economy was in danger of sputtering in the second half. That risk, and its implications of no Federal Reserve action until 2005, fueled the rally in the bond market and sent long-term yields down to near-record lows.
But the March jobs report has completely changed earlier market sentiments about growth, inflation, and interest rates. Indeed, the huge payroll gains, along with super-strong surveys from the nation's purchasing managers, open up the possibility that the economy could be even stronger than generally believed. If the April jobs report, due on May 7, is anywhere near as robust as the March data, economists are sure to lift their already upbeat expectations for real gross domestic product growth for the rest of the year.
On the day of the jobs report, bond yields took the largest one-day jump in nearly eight years, with the yield on the 10-year bond climbing from 3.88% to 4.14%. That partly reflects investors' new expectations on the timing of the Fed's first rate hike, which market players now think could come as early as this summer.
For now, though, these knee-jerk reactions still seem a bit premature. Despite the first-quarter hiring increase, an abundance of slack remains in both the labor market and in production capacity that will require a long time for even rapid growth to absorb. The jobless rate rose from 5.6% in February to 5.7% in March, because 179,000 people entered the labor market, and most were unsuccessful at finding a job. The slack in the economy means inflationary pressures will stay under wraps for a long while, allowing the Fed to remain patient.
EVEN SO, MARCH MAY PROVE TO BE a pivotal month for this recovery. Not only did factory activity beat expectations, but nonmanufacturing industries were also exceptionally busy, and the first-quarter data on car buying and store sales show consumers are still spending at a solid pace.
But it was the employment report that offered the broadest thumbs-up for the outlook. Labor said 61% of the private industries surveyed added workers. That's the most widespread hiring percentage in four years. Private payrolls rose by 277,000, and for the quarter, private jobs increased at a 161,000 monthly pace, the strongest clip since the first quarter of 2000 (chart).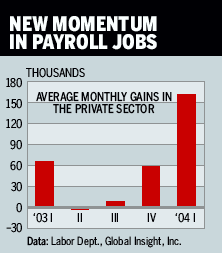 Economists had expected a solid gain in payrolls partly because of workers returning from the grocery-store strike in California. But not only was the figure of 308,000 new jobs larger than the most optimistic forecast, but Labor said the strike settlement played only a small part. Food-store payrolls rose by less than 13,000. Hiring was stronger in construction, where payrolls jumped by 71,000, more than recouping the 21,000 jobs lost in February. Health care, restaurants and bars, building services, and transportation and warehousing were other industries where payrolls increased significantly.
Factory payrolls were unchanged, which marked the first time since mid-2000 that manufacturers did not lay off workers. The factory workweek slipped six minutes, to 40.9 hours, but overtime stayed at its 3 1/2-year high of 4.6 hours. That's a good omen for future job growth since overtime generally rises before factories begin to add workers in response to improving demand.
THE FACTORY JOBS DATA followed other positive news on manufacturing. The Institute for Supply Management's purchasing managers' index of factory activity rebounded to 62.5% in March, the fifth straight month the index has been above 60%. The ISM said the first-quarter average corresponded to real GDP growth at a booming 7.2% annual rate. The indexes of production, employment, and exports all accelerated in March.
The report also showed manufacturers are falling way behind in their delivery times. The percentage of companies reporting slower deliveries jumped to 67.9%, the highest reading in 25 years (chart). The delays are probably the result of the lean inventories businesses have been holding. Inventories are at a record low in relation to current sales levels, and companies may be running out of materials and supplies while trying to meet production schedules. As companies order to rebuild inventories, factory production should ramp up high enough to move job growth into the plus category.
INDEED, SHRINKING factory payrolls have prompted questions about the quality of jobs being created, and whether they will pay enough to keep consumers spending. Average hourly wages in March edged up by just 2 cents. Compared with a year ago, pay has risen 1.8%, or about even with the recent gas-fueled rise in inflation.
But an analysis by the economists at investment firm UBS (UBS ) indicates that recent hiring has been about evenly split between high-paying and low-paying jobs. The economists divided industries into two pools, one where pay for production workers was higher than $14.75 per hour, and one where the pay for employees was lower. Since August, 2003, when private payrolls hit bottom, 49% of the job growth has been in high-wage industries, according to UBS. Ambulatory health care and professional and technical services are leading the hiring upturn in high-wage industries. If the nation's economy continues to create well-paying jobs in coming months, stronger income growth will provide a boost to consumer demand just as the lift from tax refunds begins to wane.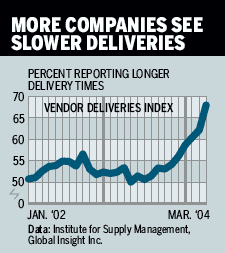 But will better job growth complicate the outlook for inflation and thus Fed policy? Although bondholder sentiment about the Fed shifted violently after the job report, the data don't mean policymakers have to hike rates any time soon. True, the Fed will want to move preemptively against inflation, but so far there is little in the data to indicate any worrisome acceleration in prices.
Commodity prices, especially fuel, have turned sharply higher. But except for gasoline, businesses still are not able to pass along the higher costs to consumers. And while total compensation will rise along with jobs, productivity should remain strong enough to keep unit labor costs from rising much, if any, or at least no faster than prices. As long as unit costs increase by less than prices, profit margins can expand.
Clearly, the March jobs report removed any doubts about this recovery's staying power. For now, that's an unmitigated plus, despite the misplaced worries over inflation and interest rates. Nevertheless, if the job markets this spring turn out to be as strong as the March data imply, the Fed's patience will start to wear thin.
By James C. Cooper & Kathleen Madigan
Before it's here, it's on the Bloomberg Terminal.
LEARN MORE