Japan: This Time, The Rebound Is For Real
Worries over the sustainability of Japan's recovery are gradually fading. Several obstacles remain, but based on the Bank of Japan's latest quarterly survey of business sentiment along with other recent reports, chances for a lasting upturn look the best they have in a long time.
Up until now, large manufacturers have driven the recovery, with the economy averaging 3.6% growth over the past year. Now, the upturn is broadening from big exporting companies to small businesses, and growth is beginning to get more help from domestic demand.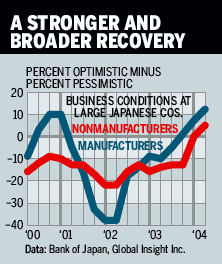 The BOJ's March Tankan survey, Japan's most comprehensive economic report on more than 10,000 businesses, shows broad improvement in sentiment, not only among large manufacturers but among service industries and small and midsize companies as well. Firms are increasingly upbeat on future sales, profits, and capital spending, and they see continuing improvement in financing conditions.
Despite the yen's 13% gain over the past year, business optimism is still on the rise. Companies are showing more resilience in the face of the yen's strength than in the past, and even the government seems less worried, given its scaled-back efforts to weaken the yen. Moreover, a stronger U.S. job market suggests continued strength in U.S. demand for Japanese goods.
More important, the outlook for Japan's household spending, which rose for the second month in a row in February, is improving. Consumer confidence is the highest in 2 1/2 years, buoyed by a steadier labor market and a 47% surge in stock prices in the year ended on Mar. 31. Unemployment has declined from a record 5.5% a year ago to 5% in February. So far, increased overtime pay is the biggest plus for household income; regular pay and bonuses continue to lag.
As demand strengthens, deflationary pressures are easing. The Tankan shows that both prices that companies pay and those they receive are firming up. However, prices paid, especially for materials, are gaining faster, threatening to squeeze profits. But with the recovery finally broadening, new demand will help steady the bottom line.
By James C. Cooper & Kathleen Madigan
Before it's here, it's on the Bloomberg Terminal.
LEARN MORE