U.S.: Job Seekers' Foe Is Also Their Best Hope
Productivity is lifting incomes and that, eventually, will boost hiring
Job scarcity always worsens the great divide between the well-off and the strugglers. But in the high-productivity economy of recent years, the chasm is even wider. In 2004 -- the third year of recovery -- many willing workers without jobs face another long slog of searching as companies strive to boost efficiency and cut costs. In contrast, if you have a job and belong to the growing investor class, the rewards are great: Rapid productivity growth means low inflation and interest rates, rising real incomes, and surging profits.
And therein lies the hope for a brighter job outlook. Productivity creates more demand by generating new income and wealth, and strong demand creates jobs. Those forces have been at work during the past three years of economic disappointment, but they are finally starting to assert themselves much more vigorously.
Consider the rate of growth in national income, which includes labor compensation, corporate profits, proprietors' income, rents, and interest. Over the past year, real national income has grown 4.9%, a sharp acceleration from 0.9% in the previous year. Today's clip is the same heady pace consistently achieved during the boom years of the late 1990s.
It's an economic fact that income -- in the form of either profits or wages -- eventually ends up in people's pockets. And whether paychecks, proprietor's income, capital gains, dividends, or interest, the money that isn't saved gets spent. Spending generates profits that fuel business expansion and hiring, creating more income for workers, which triggers another increase in demand.
Although the jobs issue remains the overarching force influencing current perceptions of the economy's performance, measuring the country's economic health entails more than just taking the temperature of the labor markets. And the latest data on incomes are telling us that working households are finally starting to enjoy some of the rewards of increased productivity. Through February, real income generated by wages and salaries increased 2.1% from the year before, the fastest pace in more than three years.
SO FAR, THOUGH, the benefits of productivity gains have shown up primarily in profits. The Commerce Dept.'s economywide tally of adjusted corporate earnings in the fourth quarter surged 29% from the previous year, the largest such advance in 20 years. Corporate earnings, which are only about 12% of national income, have contributed 44% of the growth over the past year. Workers' wages, salaries, and benefits, some 63% of income, have accounted for only 36% of the gains. Indeed, the share of profits in national income has risen to its highest level since 1997, while the share of labor income has fallen to a 37-year low.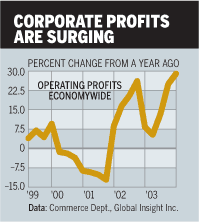 As the first-quarter earnings season begins, analysts expect profits of companies in the Standard & Poor's 500-stock index to increase 16.7% from the previous year, according to Thomson First Call. The result could be even higher, given the pattern of steadily upward revisions to expectations. Plus, the ratio of companies warning of lower-than-expected results to those that are raising their projections is very low.
One recent plus for profits is the dollar's decline, but that's far from the most important factor. Fourth-quarter net receipts from the rest of the world were up 23% from the year before, but earnings from U.S. domestic operations alone rose by a larger 30%.
PROFITS ARE FLOWING, mainly because demand is accelerating at the same time businesses are cutting costs. During the past year, overall demand has grown 4.4%, more than double the 1.8% pace the year before. At the same time, productivity growth has reduced unit labor costs. As a result, more of each sales dollar is falling straight to the bottom line. In the fourth quarter, profits of nonfinancial corporations jumped to 12.2% for each unit of product. That profit margin is up from a low of 7.2% in the third quarter of 2001 and approaching the 13.1% peak hit in 1997.
Productivity is also playing a role in the distribution of earnings, since the most productive companies are generating the most profits. Take the makers of high-tech equipment such as computers, peripherals, telecom gear, and semiconductors. Over the past two years, output per worker in tech-equipment manufacturing has soared at a 33% annual rate, while output per worker elsewhere in manufacturing rose at a decent but much slower 5% rate. The payoff from the productivity push is striking. High-tech industries -- only 6.5% of factory output -- have generated 64% of the growth in manufacturing profits over the past two years and 35% of earnings growth for all nonfinancial corporations.
Other sectors where earnings look good: Information -- a big chunk of which is telecommunications and publishing -- has accounted for another 15% of the two-year growth in nonfinancial earnings. And a sector Commerce calls "other nonfinancial" businesses, including professional and technical services and health care, contributed 21% of the advance.
THE BROAD BENEFITS from productivity are also finally starting to accrue to working households, mainly through rising real incomes. Although payrolls have not grown during the past year, working consumers have been enjoying a steady rebound in buying power, which partly explains why spending has remained robust.
In February, wages and salaries were up 3.6% from their previous-year levels, while annual inflation, as measured by the price deflator for personal-consumption expenditures, was running at only 1.5%. That means real income from wages and salaries has risen 2.1% over the past year, the best showing since 2000 (chart).
Once again, credit productivity: Better efficiency is lowering the costs of producing most products, so inflation stays low. Meanwhile, businesses are making enough money to give pay raises. True, this is another example of how joblessness contributes to the great divide between the haves and the have-nots. But eventually, productivity's lift to incomes will lead to more hiring.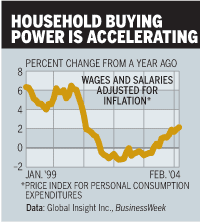 In addition, consumers who own stock, about half of all households, are benefiting from productivity's boost to corporate profits. Despite the sell-off on Wall Street in March, the Wilshire index of 5,000 stocks is still up 2.2% since the start of the year, following its 26% gain in 2003. Households have regained all of their wealth lost during the stock market meltdown. As consumers spend some of this windfall, the increase in demand will prompt businesses to hire.
Job growth is already picking up, but its pace remains too weak for many consumers. To blame productivity, though, misses a key fact: Productivity is both a toxin and tonic in this recovery. Greater efficiency has been the biggest factor holding down hiring. But over time, productivity will lift living standards by generating more income and demand. That makes productivity the best hope for getting U.S. job growth back on track.
By James C. Cooper & Kathleen Madigan
Before it's here, it's on the Bloomberg Terminal.
LEARN MORE