By Gene G. Marcial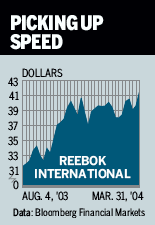 Investors in Reebok International (RBK ), No. 2 in U.S. athletic shoes, may score twice: In October, Reebok will launch a major push into China. And it is said to be the target of a U.S. apparel company seeking new brands. Reebok has signed up Houston Rockets basketball star Yao Ming to endorse a line of shoes. "The popularity of Yao Ming in China is huge -- like Michael Jordan, Tiger Woods, and Muhammad Ali combined," says Tony Dong of Munder Capital Management, a recent buyer of Reebok shares.
The sneakers market in China is $500 million, and Reebok's sales there a mere $40 million, he says. It's planning on a 20% share, says Dong. "We aim to be a major player in China," says Reebok's John Lynch. The Yao Ming line will appear in the U.S. in October. Meanwhile, some pros say Reebok is buyout bait. "Fast growth is getting tougher in apparel," notes William Smith, president of Financo, which specializes in retail mergers. Reebok has spiffed up its marketing and products -- including kids' shoes and the new RBK shoes and clothes for the young. As a result, Reebok stock is up from 31 in August to 41.35 on Mar. 31.
Standard & Poor's Yogeesh Wagle says Reebok's U.S. footwear sales will leap 4% in 2004. He sees Reebok earning $2.85 a share in 2004, up from $2.43 in 2003. Wagle has upgraded the stock from hold to accumulate. Reebok declined comment.
Note: Unless otherwise noted, neither the sources cited in Inside Wall Street nor their firms hold positions in the stocks under discussion. Similarly, they have no investment banking or other financial relationships with them.
See Gene on Fridays at 1:20 p.m. EST on CNNfn's The Money Gang.
Before it's here, it's on the Bloomberg Terminal.
LEARN MORE