Germany: Consumer Jitters Are Stalling The Recovery
Germany's economic recovery has hit a snag. Businesses are losing confidence because domestic demand hasn't picked up. But German consumers are hesitant to spend, largely because the labor market remains soft.
The March IFO Business Climate index declined for a second straight month, to 95.4. The March results weren't skewed by the Madrid bombings, says IFO, a research organization. It reviewed responses from manufacturers and found little difference in replies that came after the attacks. That makes the decline in the current business-situation index, the first fall in six months, particularly troubling. It implies a more fundamental issue is weighing on businesses.
The major culprit appears to be domestic demand. The IFO retailing index fell to -31.8, from -24.3 in February. And the March consumer confidence figures from GfK Gruppe, a market-research company, show little improvement is likely. The latest reading stalled at 5.1.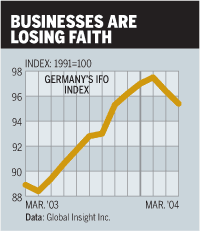 Part of the problem is that businesses seem reluctant to add workers. The jobless rate remains stubbornly high at 10.3%. And the latest employment survey from Manpower Inc. (MAN ), a U.S. staffing company, shows German businesses plan on trimming payrolls during the second quarter.
Nor are consumers getting much help elsewhere. Some $18.5 billion in tax cuts are being offset in part by a freeze in pension payments and increases in health-care costs. That's one reason the GfK survey showed that income expectations fell in March. Plus, real interest rates in Germany are among the highest in the euro zone.
That leaves the German economy dependent on foreign demand to fuel the current recovery. So far, the higher euro doesn't seem to be crimping foreign demand. In fact, the March IFO survey reported rising expectations regarding exports. Even so, the German economy won't show much improvement until domestic demand turns around. With the possibility of that rebound becoming increasingly remote, economists are already lowering growth expectations for 2004.
By James Mehring in New York
Before it's here, it's on the Bloomberg Terminal.
LEARN MORE