How Caraco Could Get Swallowed
By Gene G. Marcial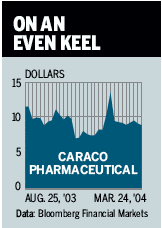 Detroit's Caraco Pharmaceutical Laboratories (CPD ), a small maker of generics, has caught the eye of India's Sun Pharmaceutical. In February, Sun raised its holding in Caraco from 49% to 62%, paying 9 a share for the stakes of two Caraco ex-directors. The stock is now at 9.16.
Some pros think Sun is out to acquire Caraco, with which it has a link: In 2002, Sun agreed to provide Caraco with the formula for 25 generics. In return, Sun would receive Caraco shares for each drug Caraco developed with Sun's knowhow. "There's a good chance that Sun will eventually buy all of Caraco," says Sven Monberg of Superstock Investor, which focuses on takeover targets. More than a third of Indian drug patents expire in 2005, he notes, creating a big opening for generics. Sun would also gain entry to the U.S. market, says Monberg. Caraco earned $11 million, or 44 cents a share in 2003, vs. a loss of $2.26 million, or 10 cents in 2002.
Based on estimated cash flow in 2004 of 76 cents to 80 cents a share, Monberg figures the stock is worth 14 to 16. Among big investors: Fleet Boston and Galleon Group. Caraco didn't return a call for comment.
Note: Unless otherwise noted, neither the sources cited in Inside Wall Street nor their firms hold positions in the stocks under discussion. Similarly, they have no investment banking or other financial relationships with them.
See Gene on Fridays at 1:20 p.m. EST on CNNfn's The Money Gang.
Before it's here, it's on the Bloomberg Terminal.
LEARN MORE