Brazil: Lula Is Battling His Way Toward Growth
Brazil's left-leaning President, Luiz Inácio Lula da Silva, promised a "spectacle of growth" to voters when he took office on Jan. 1, 2003. Instead, the economy contracted by 0.2% in his first year in office.
Recent data on industrial and retail activity suggest better numbers this year. High commodity prices are boosting exports, while low U.S. and European interest rates are encouraging investors to put money in Brazilian bonds. But a government think tank recently reduced its growth forecast from 3.6% to 3.4%.
Discontent among politicians and business leaders may have prompted the central bank to cut its basic interest rate by 25 basis points to 16.25% on Mar. 17. The cut was the first this year. Last year, the bank raised the base rate during the first months of Lula's term, helping to calm investors and stabilize the currency. It then began reducing the rate from a high of 26.5%.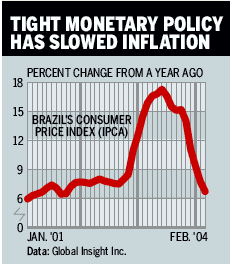 But the bank had to interrupt its downward path when inflation -- the longtime scourge of Brazil's economy -- showed signs of picking up. Although inflation has slowed, talk inside the government on whether the bank should stick to its inflation target of 5.5% or allow a rate closer to 8% (the upper limit of its target band) has caused jitters in financial markets.
So has a political scandal that refuses to go away. A close aide to José Dirceu, Lula's chief of staff and political fixer, was fired last month after the discovery of videotapes that showed him demanding bribes and funding for Lula's Workers Party during the 2002 campaign. More recent allegations put an associate of that aide, with links to Finance Minister Antônio Palocci, at the center of more corruption. Lula has defended his ministers and their policies, but morale in the government is low.
Lula has won praise for sticking to the previous administration's tight fiscal policies. And recent initiatives are trying to encourage joint public- and private-sector investment in much-needed infrastructure. But analysts and investors are wondering when Lula's government will generate bigger ideas of its own to jump-start the economy.
By Jonathan Wheatley in São Paulo
Before it's here, it's on the Bloomberg Terminal.
LEARN MORE