BMW's Mini Just Keeps Getting Mightier
With a convertible set to hit showrooms, its surprise smash is minting money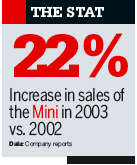 When BMW dealers start selling the new Mini convertible in Europe and the U.S. this summer, the cars will be delivered to customers with the top down and a seal that is broken when the roof is raised for the first time. Buyers will be asked to sign a mock contract committing them to keeping the roof down as long as they can -- to stay true to the Mini convertible's open-minded spirit. "It will spark contests to see how long owners can go before breaking the seal," says Jack Pitney, vice-president of Mini USA.
That's pure Mini marketing cheek. And it works. The two-year-old remake of the 1959 British classic is becoming one of the most successful model overhauls in automotive history. Sales of 176,000 cars last year were up 22.4% from 2002, and the Mini factory in Oxford, England, is running full tilt. Although BMW doesn't break out the Mini's earnings, Deutsche Bank estimates that the unit produced a pretax profit of $61.5 million last year, on revenues of $3.4 billion. That is an impressive result when compared with ongoing losses at Mercedes-Benz (DCX ) from its compact A-class and the supersmall Smart. "It's much more profitable than we expected," says Chief Financial Officer Stefan Krause.
Mini sales are all the more impressive given the depressed car markets in Europe and the U.S. and an advertising and marketing budget that was truly mini. BMW spent a mere $13 million on the Mini's U.S. launch, according to TNS Media Intelligence/CMR in New York. Unwilling to spend enough to buy TV spots, BMW resorted to event-focused "guerrilla" tactics, unconventional stunts, and irreverent humor to spark an infectious buzz. One of the first Mini sightings in the U.S. was of a model strapped to the roof of a sport-utility vehicle with a sign that read: "What are you doing for fun this weekend?" The Mini also appeared seated in football stadiums like a fan watching the game. When producers used it in the 2003 remake of the movie The Italian Job, the Mini vaulted to quintessential cool. "I wasn't going home without one," says John Kreppel, a 50-year-old Mini owner from Delmar, Md. "I don't think I'll ever get rid of this car."
Orders for the convertible already total 3,000 in Britain alone, and market researchers expect global sales to reach 25,000 to 30,000 this year. The convertible Mini is part of BMW's plan to transform the Mini from model to brand, a full lineup that gives the Mini idea staying power. Though BMW is mum, many expect a Mini wagon to hit the market around 2006, followed by a roadster. New engines are in the works, too. "The biggest challenge is the successor generation, when they have to come up with a full redesign," says Philipp Rosengarten, senior auto analyst at Global Insight in Frankfurt. "That's the critical moment."
Part of the Mini's success is its new look. Its cute snout and bulldog-like stance offer an appealing contrast to boxy SUVs. While it retains a few style cues from the original -- a fuel-efficient auto that sold for less than $800 in 1959 -- it has been recast as a premium car, priced at $17,000 to $25,000. The more powerful Mini Cooper and Cooper S models account for 75% of sales.
GOING UPMARKET. Being fashionable, of course, carries a risk. Retro remakes such as the Volkswagen (VLKAY ) Beetle or Ford (F ) Thunderbird enjoyed an initial spike in sales only to suffer a rapid decline. But market researchers say the Mini will fare better because it has been taken upmarket and packed with cutting-edge technology. BMW has nurtured Mini mania by keeping supply running just short of demand. Its biggest selling point may be its individualist appeal. More than half of buyers custom-order their Minis and wait three months for delivery. This surprised even BMW, which receives custom orders for 30% of BMWs sold in the U.S.
BMW's conundrum now is how to squeeze more volume from its Oxford plant to accommodate sales of the convertible. It may eventually outsource some production. "It's a difficult challenge," says BMW Chief Executive Helmut Panke. Grappling with higher-than-expected sales is a problem Panke's rivals would love to face.
By Gail Edmondson in Munich, with Michael Eidam in Atlanta
Before it's here, it's on the Bloomberg Terminal.
LEARN MORE