Asta Is Really Cleaning Up
By Gene G. Marcial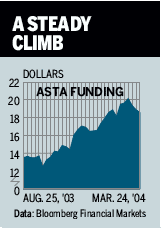 When little-known Asta Funding (ASFI ) was first mentioned in this column, on Feb. 24, 2003, the stock traded at 7. It's now at 18.60. (It split 2-for-1 on Mar. 23, 2004.) Asta buys receivables, or unpaid debts, from banks, finance companies, and other service providers, paying a penny to 36 cents on the dollar, depending on the chances of collecting. With the stock's sharp rise, is it time to bail out?
Not at all, says Audrey Snell of investment firm Brean Murray, who reiterated her "strong buy" rating. The stock remains undervalued compared with its peers, she says, with a price just 12 times her 2004 earnings forecast of $1.50 a share, vs. the industry's p-e of 15 to 16. For 2005, she sees $1.82, or a ratio of 10. In 2003, Asta earned $1.12. "We are doing the same disciplined buying of debt, but on a much larger scale," says CEO Gary Stern. From May to December, Asta bought distressed debt of $4.5 billion, for which it paid $146 million. Asta turns the leg work over to collection agencies. Steven DeLaney of investment firm Ryan Beck, which has done banking for Asta, says it had the largest portfolio of receivables ($8.3 billion) in 2003 in the industry. He rates Asta "outperform."
Note: Unless otherwise noted, neither the sources cited in Inside Wall Street nor their firms hold positions in the stocks under discussion. Similarly, they have no investment banking or other financial relationships with them.
See Gene on Fridays at 1:20 p.m. EST on CNNfn's The Money Gang.
Before it's here, it's on the Bloomberg Terminal.
LEARN MORE