U.S.: The Economy Is Likely To Roll With The Punches
But hiring has to kick in if growth is to meet upbeat expectations for 2004
For the U.S. economy, the first quarter came in like a lion, and growth in the 4%-to-5% range looks likely. Up until a few days ago, the Dow Jones industrial average was flirting with 11,000, and business sentiment was turning around. Expectations for job growth were running high, and consumers were spending freely.
But the latest news of a major disappointment on the job front and terrorist attacks in Spain have added a note of caution to the outlook. Those events are reminders that potential shocks still lurk.
To be sure, the risks in the outlook remain small. But in recent weeks, the economy has experienced some worrisome twists. First, the Mar. 5 job report, which showed just 21,000 jobs created in February, was a huge letdown that shook consumer confidence. Then the Dow began to head back toward 10,000, as investors began to worry about the lack of jobs and how that might affect profits. Finally, the bombings in Madrid and the apparent involvement of al Qaeda reminded business leaders that the threat of terrorism still hangs over the world.
For now, the latest data show the economy midway through the first quarter is healthy, thanks to the same positive momentum that propelled it through the second half of 2003. Consumers posted a solid spending gain in February, and manufacturers lifted production. Inventories are growing, although perhaps not as quickly as many economists had expected. And housing remains on firm ground even though winter weather hurt building activity in January and February.
No wonder the Federal Reserve saw no reason to change its recent views on the economy. As universally expected, policymakers kept short-term rates unchanged at their Mar. 16 meeting. And their accompanying statement essentially repeated their January views that the risks to the outlooks for both growth and inflation were about evenly balanced, and that the Fed could afford to stay "patient." The only change: The Fed's assessment of the labor markets sounded less upbeat.
That comment on the job market, coupled with increased geopolitical tension, drives home a critical point. Every additional month without a significant pickup in job growth adds to the risk that the current ebullient expectations for the economy this year may not be met.
NOT SURPRISINGLY, given the focus on jobs, consumers will remain the key to the recovery's stamina. If households keep spending at last year's nearly 4% clip, hopes for 4%-to-5% growth in real gross domestic product for all of 2004 will surely be realized. But a 2% pace in consumer buying would most likely lead to a growth disappointment.
So far, all evidence suggests that households still have plenty of get-up-and-go. Retail sales in February rose a sturdy 0.6%, boosted by higher car sales. Receipts excluding autos were unchanged, but revisions showed that sales in both December and January were higher than first estimated. Real consumer spending, as it shows up in the GDP numbers, is on track to post a quarterly gain of 4% at an annual rate.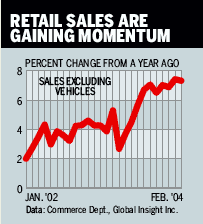 Although measures of consumer attitudes have slipped from the fourth quarter and the Spain bombings could heighten fears, consumers have the wherewithal to keep spending. Higher-than-usual tax refunds are starting to boost aftertax incomes, and mortgage rates are back to near-record lows, which should add another lift to refi money.
Low rates will also continue to bolster housing. Mortgage lender Fannie Mae (FNM ) expects home buying to set a fourth consecutive high in 2004. So while surveys of builders show housing activity has slowed lately, the hiatus should be short-lived. Spring is likely to witness the return of busy construction crews.
THE SEASON SHOULD ALSO SEE continued gains in the factory sector. In addition to consumer demand, an accelerating pace of exports and the need of many businesses to build up inventories explain why the recovery in U.S. manufacturing is speeding up.
Factories even appear on the verge of increasing their payrolls, with job losses in February dwindling to nearly zero, after 3 1/2 years of steady declines. That's because output may finally be growing faster than productivity is. Manufacturing output surged 1% in February, as part of a 0.7% rise in overall industrial production. During the past six months, factory output has grown at an annual rate of 7.4%, a clip not seen since the late 1990s. Output of high-tech equipment continues to lead the gains, up at a 23.2% annual rate over the past half-year. But even excluding tech, factory output is advancing at a rapid 6.1% pace, the fastest in six years.
In addition to U.S. demand, new strength in exports is adding to the factory upswing. In the three months through January, exports of U.S. goods are up 10.5% from the same period the year before. In particular, shipments to Asia and Pacific Rim nations, the destination for about a fourth of U.S. exports, are up nearly 16%. Exports to China climbed nearly 50%.
But keep in mind that this is manufacturing's second attempt at recovery since the recession ended. Factory production had risen for six consecutive months in the first half of 2002 but fell again amid the shocks from corporate scandals and the buildup to war. The sector's upturn seems much more solid this time, but a new round of business caution could hurt.
CASE IN POINT: Businesses are still unusually wary about building up inventories. Given the sharp pickup in demand since last summer, you would expect to see a faster rise in inventories by now. But in January, stock levels held by manufacturers, wholesalers, and retailers edged up a mere 0.1%, less than the 0.4% increases in each of the four previous months.
Inventories remain exceptionally low in relation to sales, based on historical trends. The most likely outlook is that businesses will boost their ordering in coming months, lifting factory output and creating factory jobs. So far, though, companies appear hesitant to beef up their stockpiles. Commercial and industrial loans, which in the past have been highly correlated with inventory swings, show little upward tilt through early March. If that caution is reinforced, the lack of inventory accumulation would detract from overall economic growth. And without new orders for inventory rebuilding, manufacturers may not begin hiring.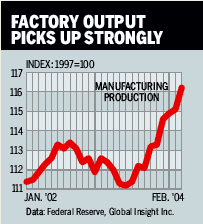 Indeed, the outlook now includes an interesting dichotomy between what people say and what they do. Consumers are increasingly jittery, yet their spending shows no sign of flagging. Business executives, meanwhile, say they are more upbeat. But they remain reluctant to hire new workers or to boost their inventories.
As the first quarter winds down, the recovery retains enough momentum from low rates and tax cuts to overcome this split between business sentiment and action. But if growth is to meet the high expectations set for 2004, the economy will need a healthy dose of job creation -- and soon -- to provide a second wind for the second half.
By James C. Cooper & Kathleen Madigan
Before it's here, it's on the Bloomberg Terminal.
LEARN MORE