The Buyout Signs Point To Century Bancorp
By Gene G. Marcial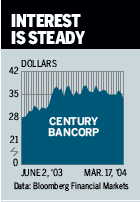 It's no secret small and mid-cap banks are being snapped up by larger ones. So what's the next target? Kevin Reevey of investment firm Ryan Beck analyzed 500 deals over the past three years, looking at such factors as return on equity, asset growth, price-to-book value, and location. He came up with 27 likely prospects.
Topping his list is Century Bancorp (CNBK ), a holding company for Century Bank & Trust, the No. 12 bank in eastern Massachusetts. It's stock is up from 27 last June to 33 on Mar. 17. It reflects total assets of $1.7 billion and a market cap of just $184 million. Century posted earnings in 2003 of $11.6 million, or $2.11 a share, a drop from $13.5 million, or $2.44, in 2002, caused by a tax charge on a real estate deal. Zacks consensus estimates are $2.48 for 2004 and $2.67 for 2005.
Century trades at a discount to its peers, with a price-earnings ratio of 13, says Thomas Doheny of Sandler O'Neill & Partners. The bank has some big share-holders, including Wellington Management, with an 8.4% stake, and Endicott Group, with 8.1%. Century didn't return a call for comment.
Note: Unless otherwise noted, neither the sources cited in Inside Wall Street nor their firms hold positions in the stocks under discussion. Similarly, they have no investment banking or other financial relationships with them.
See Gene on Fridays at 1:20 p.m. EST on CNNfn's The Money Gang.
Before it's here, it's on the Bloomberg Terminal.
LEARN MORE