Taking Stock Of An Electronic Exchange
Everyone knows the leading destination for stock trading in the U.S. is the southwest corner of Wall & Broad -- the New York Stock Exchange. Replacing it with computers in Chicago, New York, and Altamonte Springs, Fla., is the stated goal of Archipelago Holdings, a company only 211 people strong. Ridiculous?
Archipelago hopes you won't think so. This operator of an electronic trading system called Archipelago Exchange, or ArcaEx, is getting ready to ask public investors to take a stake in its improbable dream. On Mar. 2 the Chicago firm filed papers to prepare for an initial public offering to be led by Goldman Sachs (GS ). Will this be a sweet deal? It's impossible to say just yet, since the amount of money Archipelago expects to raise and how much of the equity it will give up in return is yet to be disclosed. In addition, Archipelago execs, including co-founder and CEO Gerald Putnam, are keeping quiet ahead of the deal. Fortunately, you can find plenty of hints about Archipelago's outlook and valuation in its securities filing.
HERE IS WHAT'S striking: For a company founded barely seven years ago, Archipelago has gathered a lot of momentum. In two years' time its share of trading in NASDAQ stocks has swelled to more than 24% from less than 6%. Traders are attracted to its ability to match four out of five buy or sell orders swiftly and anonymously within ArcaEx. It does so electronically, without the intervention of humans on an exchange floor, as at the NYSE, or of a securities dealer (NASDAQ). When it can't match orders, it routes them to rival exchanges.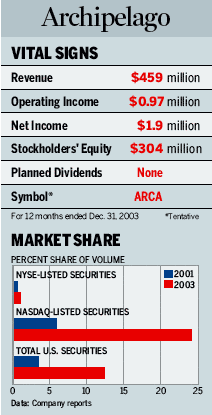 Its share of trading in NYSE-listed issues last year barely topped 1%, but as big trading firms increasingly take their orders elsewhere, opportunity beckons. With added growth from such new securities as exchange-traded funds, Archipelago's array of Sun Microsystems (SUNW ) servers in 2003 handled 12.4% of all U.S. securities trading volume. With that, and a consequent 28% leap in revenue, to $459 million, Archipelago netted $1.9 million. How does that compare? Very nicely next to its nearest public-company rival, Instinet Group (INGP ). Last year, Instinet's revenue grew just 3%, and the company lost $73.8 million.
About twice as big by revenue and controlled by giant Reuters Group (RTRSY ), Instinet is busily cutting staff and other costs. However, it can be counted on to keep downward pressure on the transaction fees that make up nearly all of Archipelago's revenues. "I have never seen such price competition in all my days," says John Bogle, the Vanguard Group founder who serves on Instinet's board. Margin pressure doesn't stop there. NASDAQ has cut some fees, and the NYSE's new regime is moving toward more automated trading. That could sap some of Archipelago's appeal to traders suspicious of the matching of trades by humans on the Big Board's floor.
As it happens, Instinet owns 4% of Archipelago and may sell some of its stake in the IPO alongside shares sold by the company. Fellow stockholders, who also may sell some shares, are a familiar bunch: Goldman, the private-equity firm General Atlantic Partners, Credit Suisse First Boston (CSR ), Fidelity Investments, Merrill Lynch (MER ), Charles Schwab (SCH ), and more.
What are their shares worth? When Archipelago last November issued employee stock options, the exercise price it set indicated a total equity value of $535 million. The same month, General Atlantic paid $125 million for a 23.4% stake, also suggesting a value near $535 million. Yet these figures are for illiquid private stock. A third way to figure Archipelago's public-market value is to check the multiples of sales and book value investors pay for Instinet. At those, 2.1 times book and 1.9 times the past 12 months' sales, Archipelago's value ranges from $640 million to $870 million. A key difference: Archipelago in 2003 made a small profit; Instinet is still fighting to get in the black.
Once Archipelago goes public, here's another way to check its progress: Unlike most issues trading on ArcaEx, its own shares are set to trade exclusively there. If it keeps building on the momentum it's now enjoying, Archipelago may never change hands at Wall & Broad.
Before it's here, it's on the Bloomberg Terminal.
LEARN MORE