By Gene G. Marcial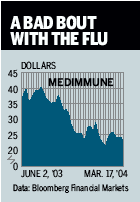 Flu season is over, but it was a disaster for the No. 6 U.S. biotech, MedImmune (MEDI ). Its ballyhooed FluMist, a nasal-spray flu vaccine, was a flop -- which sent the stock reeling, from 42 in June to 23 now. As a result, some pros are buying: David Katz of Matrix Asset Advisors is confident MedImmune can turn FluMist around, by pricing it lower and educating doctors and consumers about the product.
MedImmune also has a highly profitable drug, Synagis, along with other products in clinical trials. MedImmune is "an attractive target for the big pharmas, especially Abbott Labs (ABT )," says Katz, who figures it's worth 35 in a buyout. Abbott co-markets Synagis, used to treat lower respiratory infections in children. In September, Synagis won additional Food & Drug Administration approval for use with pediatric congenital heart disease.
Katz sees Synagis sales -- $854 million in 2003 -- growing at 10% a year for the next three years. Now, MedImmune has come up with an improved version called Numax. MedImmune isn't expected to grant Abbott similar rights to it. To avoid being shut out of Numax, Abbott may just buy MedImmune, says Katz. He notes that other big drugmakers have been buying biotechs. John Sonnier of Prudential Financial sees MedImmune earnings falling to 51 cents a share in 2004 -- down from 76 cents in 2003 -- after the FluMist stumble. Bullish on MedImmune, he expects 66 cents in 2005. He rates the stock overweight. The company declined comment.
Note: Unless otherwise noted, neither the sources cited in Inside Wall Street nor their firms hold positions in the stocks under discussion. Similarly, they have no investment banking or other financial relationships with them.
See Gene on Fridays at 1:20 p.m. EST on CNNfn's The Money Gang.
Before it's here, it's on the Bloomberg Terminal.
LEARN MORE