Lowering The Bar For Tech IPOs
Risk is climbing back up as bankers push Silicon Valley startups to go public
Chief Executive Harry E. Gruber admits he couldn't have taken Kintera Inc. (KNTA ) public a year ago. Investment banks refused to back most initial public offerings for tech outfits that didn't have at least $60 million to $80 million in sales and two quarters of profits. Kintera, which makes management software for nonprofits, lost $9.9 million in 2003 on $8 million in sales. Now bankers are lowering the bar. Kintera got the green light for an IPO on Dec. 18, and guess what? Its stock has doubled. "You're always selling the future" in an IPO, Gruber says.
Sound familiar? Throughout Silicon Valley, bankers are pushing startups to go public -- including companies whose size or red ink would have ruled them out since the bust of 2000. Citing fears that election-year uncertainties will send stocks lower, mid-tier banks like S.G. Cowen Securities Corp. and Thomas Weisel Partners LLC are prodding companies as small as $35 million in sales to sell shares, the companies say. Profits can be optional, too, if the company is close to black ink. Says Bradford C. Koenig, co-head of tech banking at Goldman, Sachs & Co. (GS ), which is wooing candidates with as little as $40 million in sales: "The market is more open to companies at earlier stages of development."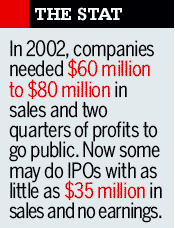 GROWTH TRACK
And how: half of the 26 companies to go public this year have lost money for the last 12 months. That's up from 30% of the 138 companies that went public in 2002 and 2003, says Paul Bard, an analyst at IPO boutique Renaissance Capital. Of eight tech IPOs this year, three were unprofitable but all are within six months of black ink, Bard says. Indeed, most upcoming IPOs aren't the flimsy concept companies of 1999 but survivors of tech's nuclear winter. "We're looking for IPOs that can be much larger companies," says Christopher J. Ainley, who runs the TCW Galileo Small-Cap Growth Fund (TGBKX ). "Whether they're profitable when they come out doesn't really matter."
Speculative IPOs are getting a look because small caps have starred in the bull market. The Russell 2000 index is up 51% since late 2002, vs. 28% for the Standard & Poor's 500-stock index. Fidelity's Small Cap Stock Fund (FSLCX ) saw $500 million pour in during January and February, up from $72 million a month in late 2003, says Carl Wittnebert, research director at TrimTabs.com Investment Research Inc. Venture capitalists think the banks' pitch will prod some companies into the market, especially if the upcoming IPO of software maker salesforce.com Inc. goes well. "There's a big backlog of companies preparing," says Gary Morgenthaler, general partner of Morgenthaler Ventures in Menlo Park, Calif.
That doesn't mean every promising company is ready to jump into the fray. Jon Nordmark, CEO of luggage e-tailer eBags Inc., says Wall Street would have slaughtered him for a mistake he made last Christmas, when he overestimated eBags' growth. With eBags in the black, he doesn't need to rush to go public before his business gets more predictable. Bruce Hendrix, CEO of newly profitable security company ServGate Technologies Inc., has similar fears. With 40% of his sales in Asia, he frets over a possible SARS recurrence. "The idea is to look good 9 or 12 months after the offering, not just on Day One," he says.
WEAKNESS AHEAD?
That caution helps explain why upcoming IPOs are starting to look a bit stronger than some recent deals. Fourteen of 17 tech outfits that have filed to go public since Jan. 1 are profitable. Among the best: E-jeweler Blue Nile Inc., which made $27 million on $129 million in 2003 sales. Then there's Web search company Google Inc., as the market awaits its filing. But bankers point to the Mar. 3 filing by used-book e-marketplace Alibris Inc., which lost $5 million on $45 million in sales, as a possible sign of weak deals to come. Alibris declined comment.
It's hardly Bubble Redux, but with standards dropping, investors need to be careful. Most should leave IPOs to the professionals -- and even some of them are skeptical. "We'd be inclined to give these deals a haircut on valuation," says Paul T. Cook, head of the Munder Net/Net Fund. "They're a mixed bag." Risk is back. Caveat investor.
By Timothy J. Mullaney in New York and Peter Burrows in San Mateo
Before it's here, it's on the Bloomberg Terminal.
LEARN MORE