At the end of 2003, Italy's economic prospects for this year were not bright. Now, they're even dimmer.
As it turns out, the fourth-quarter stall in real gross domestic product was much worse than expected, given the government's more complete data on individual sectors released on Mar. 10. In response, economists are ratcheting down their 2004 growth forecasts to only about 1%.
Meanwhile, Prime Minister Silvio Berlusconi faces a disenchanted electorate and a raft of other problems, including his country's huge debt and teetering credit rating, and strong opposition to his pension-reform plan.
As the preliminary data had shown, fourth-quarter real GDP was unchanged from the third quarter and up a scant 0.1% from the year before. But the details now show that consumer spending had its biggest decline in more than two years. Business investment also dropped as companies lost faith, and exports fell as the strong euro continued to take its toll. The January trade deficit, excluding Europe, was the largest in recent years.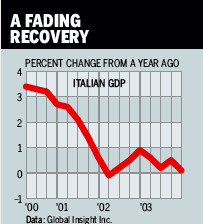 The only growth came from an unintended rise in inventories, which companies will have to work off in early 2004 at the expense of output. Industrial production fell in the fourth quarter, and surveys for January and February suggest no improvement.
A key part of the story is a lack of confidence, which has taken a hit from corporate scandals, including the fiasco at consumer food giant Parmalat, and increased strike activity. The recent terrorist attacks in Spain, which sharply depressed Italian stock prices, won't help. Consumer confidence is at a record low, and business confidence has been drifting lower for six consecutive months.
Berlusconi has few options. Cutting taxes will only add to Italy's debt, now some 106% of GDP, at a time when its sovereign credit rating is under close scrutiny. Any new tax cuts would place more pressure on the government to make progress on a cost-saving reform of the pension system, but union resistance is high. The second general strike in less than a year is now planned for Mar. 26, aimed at quashing the pension-reform plan, which has already been watered down.
By James C. Cooper & Kathleen Madigan
Before it's here, it's on the Bloomberg Terminal.
LEARN MORE